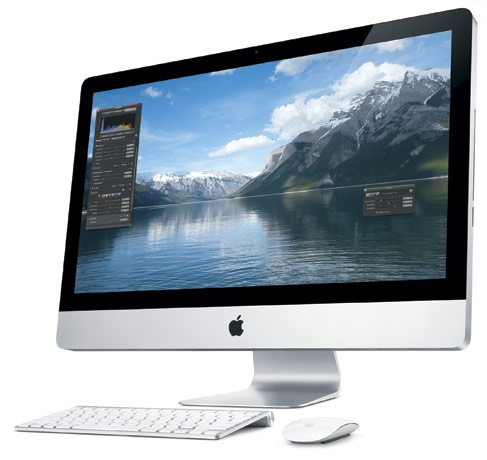 Apple iMac 27in
Both a potent multimedia machine and a work of art, there's simply no other desktop Computer that comes close to matching the iMac's minimalist, all-in-one aluminium design And now, with uprated Core i-series processors, RAM and ATl graphics, it's more powerful than ever. The superior IPS screen remains, and the mid-range model offers good value for money Mainstream desktops have the edge with tech – criminally. There's still no Blu-ray or multi-touch screen option -but the Mac is exceptionally fast and uniquely well crafted. Load Steam on it and it's pretty handy at games, too.
Killer Feature: Flawless aluminium hides a multitude of connectivity
Verdict: Apple flagship all-in-one Mac proves home computers can look great and work superbly.
Zotac ZBox Blu-ray HD-ID34
More living room appliance than PC, this aluminium-clad waif sports a dual-core Atom processor, 250GB hard disk and Blu-ray. It's the ideal media centre, and if you get the software it'll even spin 3D discs for you. You'll need to budget for an OS, mind.
Acer Aspire ZS610
Like the Samsung at No.10, this is a 23in mufti-touch-all-in-one with a slightly faster processor and graphics chip, but a marginally poorer screen, it has a bargain price, though and if you tire of gaming, there's also an inbuilt DVB – T tuner for Freeview telly.
Cyberpower 15 Achilles GT
Packed with blisteringly fast components and chilled with a liquid cooling system, the AchiIIes has it all: top-end gaming performance, geek-out good looks and a more than reasonable price for a machine that'll keep you playing for years to come.
Asus Eee Top ET2010
A 20in all-in-one with a multi-touch screen for less than 500 euros the Eee Top isn't quite as strong a performer as the Acer Aspire ZS610 but it remains excellent value and as a simple second computer for the kitchen or bedroom it's unbeatable.
Scan 3XS Black Widow Extreme
Behold the bleeding edge of PC gaming With a water-cooled, quad-core CPU and two of Nvidia's most powerful graphics cards, the 3X5 Black Widow Extreme is capable of running insane resolutions across multiple monitors. Hence the ludicrous price.
Asus Eee Box EB1501P
The updated Eee Box is tiny, almost silent and affordable, but packs a little extra power, with second-generation ION graphics, a dual-core Atom processor and 2GB RAM. It won't game, but Blu-ray's an option, and you can mount it on the back of your telly.
Sony Vaio L
Sony's sleek all-in-one is a multi-touch multimedia machine with a big 24in screen that's responsive to finger control and looks great, to boot. Plus, it has a Blu-гaу drive for hi-def video performance. Looks expensive next to Acer's ZS610 though.
Dell Inspiron Zino 410
If you want power in a small footprint, this is the way to get it. The Zino packs potent dual-triple- or quad-core AMD processors, up to 1TB of storage and optional Blu-ray, all into a colourful little brick. If it weren't a little plasticky and noisy, it'd be near the top.
Samsung U250
It's not quite got the iMac's looks but Samsungs U250 is even thinner than the Apple flagship while the 2 3in display has excellent viewing angles and chasmic colours. It's got plenty of processing poke and is good enough to game on at decent resolutions.