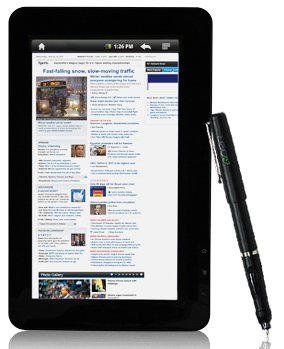 Nextbook has announced that they have begun shipping of their latest Android tablet, the Next5. According to the company, this will be the first Android tablet that will come with an Integrated APEN digital pen.
The company said that the pen will connect wirelessly to the Next5 and allow users to generate, save or transmit real-time notes, compose emails and create drawings on the tablet.
The Next5 tablet comes with a 7-inch display and Android 2.1 as operating system. The device supports WiFi, 2GB internal storage, a microSD card slot and built-in speakers. It also comes preloaded with SlideMe app manager, eBook Store, 25 preloaded books and an MP3/photo viewer.
The device is currently available on retail and will cost a user a mere $299.
Although not a high-end device that could compete with bigger brands, if you are into writing as a key component of the device, the Next5 could just be the right tablet for you.