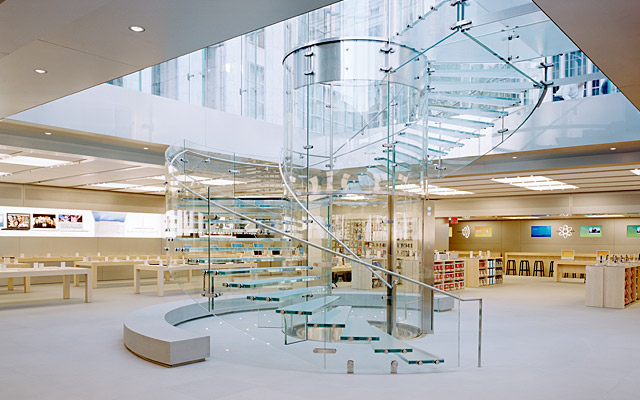 15 May 2001 – The world was introduced to an Apple retail store when Steve Jobs gave the media a tour of its Tysons Corner Apple Store in McLean, Virginia. Four days later this store, as well as a second in Glendale, California officially opened for business to the general public.
15 May 2011 – Today Apple has opened 320 Apple Stores across 11 countries. You will even find an Apple Store inside the Louvre Museum in Paris and the world's largest Apple store can be found in London.
This article will take a look at the history on how Apple went about in launching its chain of successful retail stores across the world.
In the Beginning
Back in January 2000, Apple hired Ron Johnson, a former vice-president of merchandising for Target. His duties were clear: Develop and launch a line of retail stores that would fit Apple's philosophy to 'think differently'. He was also asked to build a full-scale mock store inside a Cupertino, California warehouse.
AppleInsider reported that the first 11 stores were opened at a $1.6 million price tag each and 10 to 12 year lease agreements.
Successful Launches
As each Apple Store opened over the period of time, it was done so with a large number of crowds attending the grand openings. Hundreds, even thousands, of fans were recorded attending the openings of Apple Stores around the world.
Apple stores were unique in many respects, and one of the most notable was their dedicated point-of-sale stations. Apple, however, abandoned the notion, along with the countertop in 2006 and launched the iPod-based EasyPay system. With this system customers are able to pay for their goods where ever they were standing in a store. After swiping a credit card and signing the iPod by drawing a signature, they received their bagged goods, and an invoice was e-mailed home.
Each Apple store was equipped with a Genius Bar. They are equipped by 'geniuses' or employees trained in diagnosing and repairing Apple products. Japan, however, was the first Apple Store to be equipped with an additional Genius Bar for iPod users. This was mainly due to the fact that Japan had a large number of iPod users. New York later followed with a similar arrangement.
Apple Store Business
By 2004, it has been reported that the company had committed to $386 million in lease payments and spent around $359 million on capital expenditures across 22 stores. A number of Apple's leases by this time also had a buy-out option, meaning that the company could end their 10-12 year lease agreements early.
In the first quarter in 2011, revenue from Apple stores reached an amazing $9.8 Billion, which represented 15% of the company's total sales.
Today, several huge Apple Stores welcome more visitors each day than Major League Baseball stadiums. In fact, these stores also earn income per day. London's Regent Street store welcomed its 10 millionth walk-in customer four years ago!
Celebrations?
We are sure that Apple may be planning a number of celebrations this coming week, so be sure that you keep your eyes peeled!
Image courtesy Apple