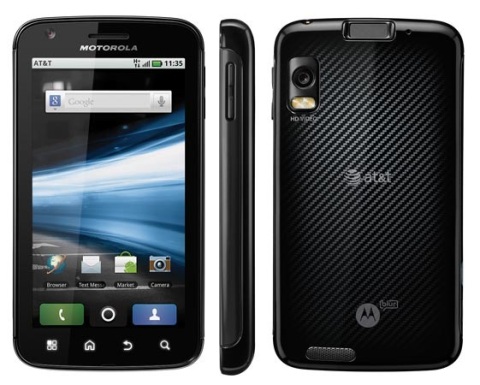 Overview
If you would describe the Motorola Atrix 4G as a mere smartphone you would be totally wrong. Even though it works like a smartphone, the powerful and extremely fast dual core processor of the device can fulfill the role of a laptop or desktop computer very easily. The super high resolution that supports a 4 inches 960 by 540 display, the great sound quality and the relatively low price make the Atrix 4G worth investigating.
Unless you actually read it in the user's manual or in an online review, you will not be able to tell the device's case is made out of plastic. Similar to all Android phones the front side of the device is all screen, however, the backside is a stylish pattern that incorporates a 5 megapixels camera with LED flash and barely noticeable speaker at the bottom of the smartphone. What is truly great about the Atrix 4G is the increased security measure, as it includes a revolutionary feature, the fingerprint scanner. Therefore, if you have valuable information that you want to keep safely away from third parties, you can be sure your critical data is secured with the Motorola Atrix 4G.
Specifications: A quick look at its main features
• It includes an incredible powerful 1Gz processor and 1GB of DDR2 RAM that enables it to work as a laptop or desktop computer;
• Enhanced security measures based on fingerprint scanner unlocking system;
• High storage capacity, as it provides 16GB of onboard memory;
• MicroSD slot compatible with a 32GB memory card;
• 540 by 960 display with touch screen capabilities;
• Compatibility with the requisite radios such as HSPA+GSM, Bluetooth 2.1+EDR and WiFi 802.11b/g/n;
• 1930mAh battery that enable continuous heavy usage for more than 24 hours;
• It is equipped with a 5 megapixels camera capable of capturing high quality photos and 720p flash videos.
What we like
One thing that you can expect in Motorola devices in general is the exceptional high audio quality and the Atrix 4G does not disappoint at this regard. Besides the fact that it provides a loud and clear sound while you are wearing earpieces, the little speaker on the lower backside ensures that you get a crisp and full-bodied sound while watching videos, listening to music or when you are speaking with someone over the phone. In addition, the audio device includes environmental noise suppressant and hence, you can be sure that you will have no problem listening to music or having a phone call in a crowded and noisy place.
What we don't like
There is a bit of controversy regarding the fingerprint scanner feature, as what looks very interesting and fun in the beginning turns to be a frustrating experience later on. More exactly, customers have made complaints about the sensitivity of this feature and that it tends to wear out pretty fast.
Another downfall of the device is the fact that the AT&T is disappointing, as it is loading the Atrix 4G a bit too much with useless applications that do not always have the delete option available. Furthermore, it seems that the device is locked and hence, users are unable to add a new custom ROM or other applications via email or the SD card.
Reputation
Overall, it is a smartphone rated as average, mainly due to the onboard AT&T. However, you should keep in mind that it also includes useful apps such as QuickOffice. In addition, besides the fact that the device itself is rather powerful, you have the possibility to add accessories such as keypad, docking and a mouse.
In a nutshell
Even though the Motorola Atrix 4G may have its problems and issues; all in all, you have to admit that it is one of the most powerful Androids out there and it certainly deserves a closer look.