Here are 13 reasons why you should ditch your IM service and use WhatsApp instead.
Hassle-free sign-up
When you first install WhatsApp on your phone, it asks for your number. Next thing you know, you're already typing your name! There's no need to hide your real name here – unless you're giving out your number to strangers. In that case, you may want to use names like "coolguy" or "pinkgirl" to hide your identity.
A year of free "no ads" service!
Let's face it. While most IM apps are free, they come with a heftier price – advertisments. And it's not like these ads don't get in the way. In fact, they're quite the opposite, sometimes to the point of blocking your entire view while in the middle of a conversation. WhatsApp Messenger for Android is one of the few decent apps that won't bother you with those pesky ads. And while it will cost you an extra $0.99 per year, you can use WhatsApp for Android for free on your first year!
Besides. $0.99 a year is a bargain for unlimited messages.
Instant access to contacts.
As soon as you install WhatsApp on your Android, you can start talking to friends and family who have it installed on their phones. And they don't need to have an Android phone like you. Since WhatsApp is cross-platform, they could use their iPhone, BlackBerry, Windows Phone, or even Symbian device!
To start using the app, simply click the icon as instructed and you will automatically have a list of phone contacts that use the app. Since WhatsApp limits its services to people on your contacts list, people can't send you a message via the app unless they have you as a contact.
My advice? Don't hand out your number to strangers.
Quickly start group chats.
Starting group chats is incredibly easy on WhatsApp for Android. From the Chats list, simply click on the Options and select "New Group".
After naming your group (and adding an optional group icon), type in the contacts you want to add. WhatsApp for Android spares you from the extra brain work by suggesting contacts as you type them.


Click on the contacts you want to add. If you want to remove them, just hit the "X" button beside their names.
Then, click "Create".

Now you can talk with up to 50 people in a single conversation thread! Everyone in the group will see what you have to say and they can pitch in too.
Tip: For more Group Chat options, enter a group chat, select Options, and click "Group Info".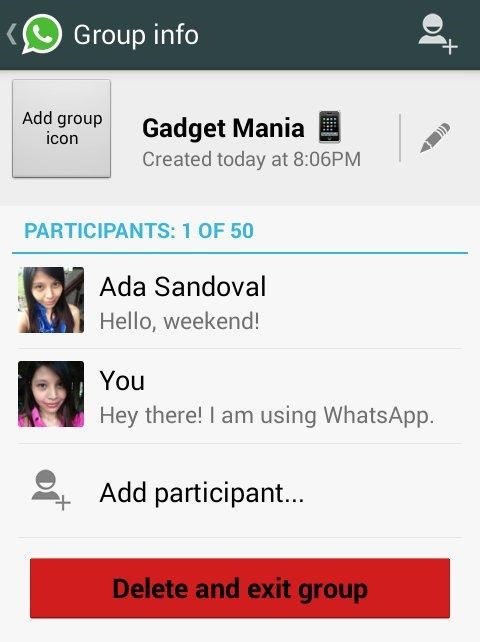 From here you can edit the group name, add or change the group icon, add and delete participants, and delete the group.
Broadcast messages.
Got an announcement? This feature is unique to WhatsApp Messenger. It lets you send messages to multiple people at a time. Unlike Group Chat, it offers privacy since recipients are only allowed to reply to the sender – you. So if people reply to a broadcast message you sent out, only you can see it.
To broadcast a message, go to the Chats list and click Options > New Broadcast. Type in the contacts you want to send the message to. Don't forget to use the suggestions feature!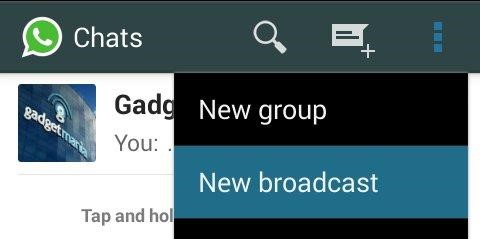 Click "Next" and type the message you to broadcast. Then, click the send icon.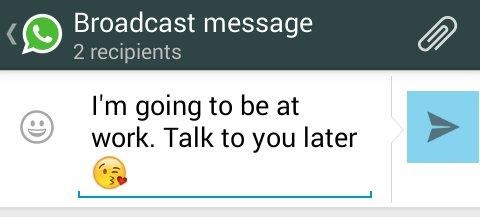 If your friends choose to reply, messages will be sent to you privately.
Tip: The quickest way to send Broadcast messages is by clicking the messaging icon from the Chats list. Long press on one contact until the Broadcast icon appears on the top. It's the one which resembles a megaphone.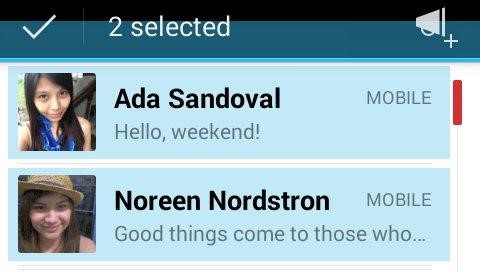 Now that you have activated the multiple select feature, click on all the contacts you want to broadcast your message to. When you're ready, click the Broadcast icon and type away! Wasn't that easy?
Status updates.
Don't want to be disturbed without signing out from WhatsApp? Update your status and let people know what you're up to. From the Chats list, click Options > Status.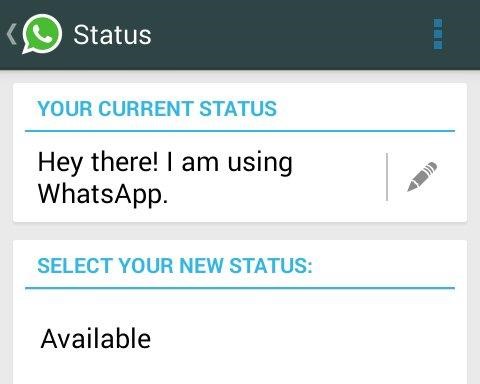 You can create your own status or select from the list.
Use emoticons.
Who said you need an iPhone? With WhatsApp for Android, you can add emoticons to pretty much anything – from your name down to your status updates. Anytime the Emoticon icon appears, it means that you can add them. The choices are far from limited and in par with the iOS offering.
Block people.
Is someone bothering you? Block him/her. Go to Options > Settings > Contacts and add people you want to block. Blocked contacts can still see your status but they won't be able to send you any more messages – at least, over WhatsApp.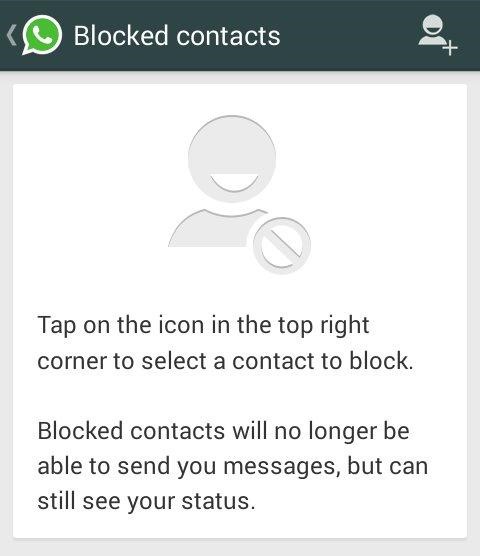 Tip: To quickly block someone while chatting with them, select Options while in the conversation. Click More > Block.
Chat from your Home Screen!
WhatsApp lets you add a shortcut to your contact on the Home Screen. While in a conversation, simply click Options > More > Add Shortcut.

Clicking this shortcut will automatically redirect you to the app and start a conversation! It's pretty neat.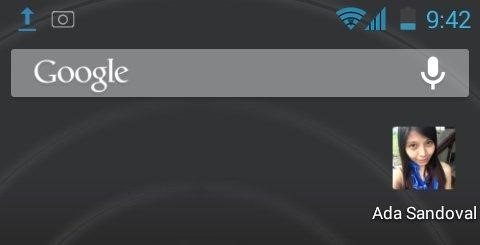 Search for conversations and more.
Feeling lost in a pool of instant messages? WhatsApp for Android has a handy Search feature. You can use it to search for conversations at the Chats list.
Or, you can use it to search specific words within a conversation. Think about all the details you will never miss out on again. To do this, just click Options > Search and type the word or phrase you're looking for.
Copy, delete, and forward.
Said something you might regret? Or maybe you just sent a message too early? WhatsApp Messenger lets you delete messages you've already sent. Long press on the message you want to delete and click on additional messages you want to throw in the trash bin. Then, press the delete icon on the top.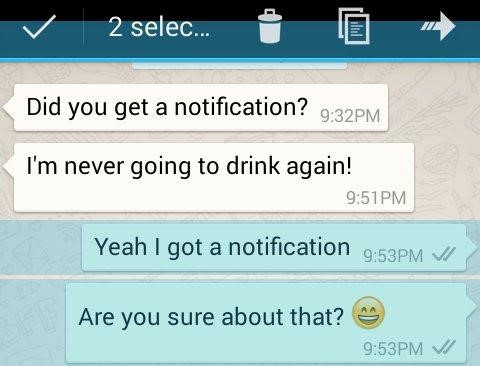 In the same way, you can copy and forward conversations this way by clicking the copy or forward icon on top.
Send audio clips and more.
WhatsApp may lack a call feature but it does give you the option to send audio clips. Moreover, you can send multimedia files such as music, photos, videos, as well as contacts and location!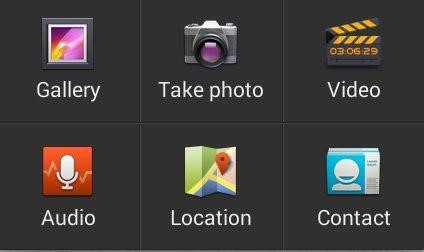 Change the wallpaper.
Add some color to your conversations by changing the default background. Just go to Options > Settings > Chat Settings > Wallpaper. While in a conversation, you can also click Options > Wallpaper to change the background.
WhatsApp Messenger for Android lets you send free messages to people all over the world. But it's not the only Instant Messaging app that does the job. There's Skype, Line, Viber, Kakao Talk, WeChat, and even Facebook Messenger – and that's just to name a few. Given the options, is WhatsApp Messenger really worth a try?