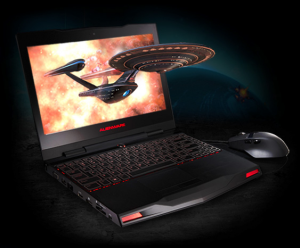 There are many laptops that are being launched in the market everyday, but only a few are able to stand up to the expectations of what people want from it. Alienware M11X laptop is one of the best laptops that have been launched in this year so far. The laptop has been well known for its regular laptop capabilities and at the same time it is an excellent gaming laptop that can provide good performance.
The Alienware M11X laptop is not only good at performance but it is also very compact which makes it one of the best compact laptops that have been launched in recent months.
To begin with let's take a look at the exteriors first. The Alienware M11X laptop is a bit thicker than normal laptops, but it has a compact screen size of 11.6 inch so that the users do not feel that they are using a laptop which is too small for gaming and other browsing capabilities. The screen resolution is 1366 X 768 pixels which look very good and the resolution on the screen is very sharp making the pictures look alive.
There is an external monitor option provided with the laptop and therefore if you have a larger monitor you can connect your laptop with it and view the output on a bigger screen. Since the laptop is also used for gaming it is loaded with built-in 5.1 speakers that give out a loud and crisp sound that would immerse you in your games when you play them. However, the M11X laptop does not have an optical drive and that is something the users will miss out in this netbook.
Inside the looks of Alienware M11X laptop you have a Core i5 or Core i7 ULV processor which is considered as the best next generation processors from the Intel processor family. Hence, you can find two different configurations of Alienware M11X laptop in the market. The Core i5 520UM ULV processor has a 2GB DDR3 RAM and 160 GB HDD while the other model has the Core i7 640UM ULV processor. Both the models of Alienware M11X laptop are 27 percent faster than regular Core 2 Duo ULV processor found in the earlier models of Alienware laptops.
The netbook is also loaded with NVIDIA GeForce GT 335M along with Intel GMA HD. In both the versions you have Windows 7 Home Premium 64-bit Operating System and the netbook weighs around 4.6 pounds which is normal for a regular netbook.