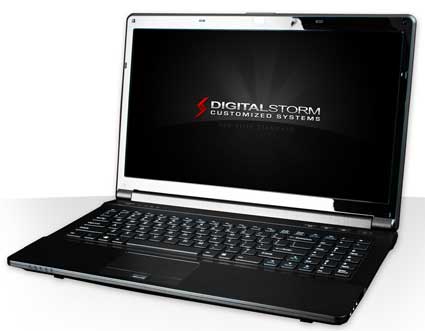 Digital Storm has announced the release of its best and most powerful laptop to date, the XM15. Not only will the XM15 bring users high performance in gaming and high definition video, but it will also last longer on a single charge.
The XM15 will make use of a NVIDIA GT 425M video card with as much as 1GB memory, which is said to be the main reason for better display and longer battery life, but could this be possible?
According to Digital Storm the XM15 features NVIDEA's Optimus Hybrid technology. The laptop also consists of another built-in Intel video adapter. When the user does not require the performance of the GT 425M, it automatically switches to the smaller video adapter. The switching process is behind the scenes and will not cause any pauses or reboots. The smaller video adapter will also consumer less electricity.
The new XM15 will be available in four different versions. The device consists of a 15.6-inch display with resolutions of 1366×768 of 1920×1080 pixels. Users can chose from three different processors, which are: Intel Core i5 – 520M, Intel Core i5 – 540M or i7 – 620 with 2.4, 2.53 and 2.8GHz clock frequencies respectively.
The laptop is able to support up to 8GB of RAM and consumers can chose up to 1 GB hard drive or SSD drive.
The device also features 1Gb Ethernet, Wi-Fi 802.11 b/g/n and Bluetooth for its connectivity.
It also consists of a webcam, DVD or Blu-Ray drive, HDMI and VGA outputs, USB 3.0 and eSATA.
The new laptop will have Windows 7 Home Premium (x64) preinstalled and the retail price will start from $999.