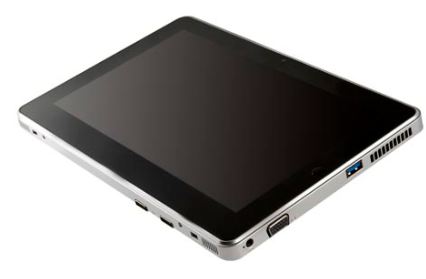 Gigabyte recently announced the launch of its new 10.1-inch slate PC, the Gigabyte S1080. The device features a Windows 7 operating system and is powered by an Intel Atom N550 dual core processor.
Gigabyte said that the new S1080 was designed to be the ultimate mobile device to fit the demanding needs of consumers who require a high-performing multitasking slate that offers the full productivity of a PC.
The device will weigh under 0.90kg and will be shipped with 320GB built-in storage hard drive. It will also be equipped with USB 3.0, which is aimed at fast file transfer speeds. Many users will find these features a pleasure to work with, which is missing on a number of other tablet computers.
The S1080 features a striking 10.1-inch multi-touch backlight TFT-LCD with a 1024 x 600 display, offering clear and bright images. The device also comes equipped with a built-in VGA port. The VGA port will allow users to connect the device to an external monitor or projector whenever a larger display is required, especially in office meetings.
Onscreen navigation is a breeze on the S1080 with its Windows 7 on-screen keyboard and handwriting recognition software. The display can be navigated easily using fingertips or simply using the navigator button and left-and-right mouse buttons, for those more interested in a more traditional PC approach.
The S1080 is a fantastic device for staying connected to the Internet. The slate comes with wireless 802.11 b/g/n and Bluetooth 3.0 for easy connectivity. Users can easily connect to their e-mail or the Internet whenever the device is in range of a Wi-Fi or mobile hotspot.
The device also consists of a built-in 1.3 megapixel webcam, which is ideal for video conferencing.
According to information received, it is expected that the device may go on retail in February. Pricing has not been mentioned by the company, but it is expected that the Gigabyte S1080 may retail for under $300.