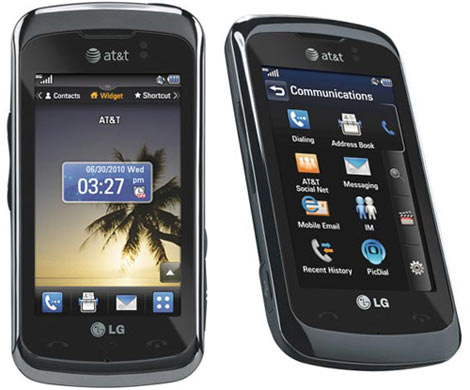 Are you looking for a good slim and lightweight mobile phone?
The problem with most slim mobile phones these days is that you don't find enough options in them. However, LG has come out with the latest offering which is known as LG Encore. Here LG has tried to infuse a rare combination of slim and lightweight mobile phone along with the best features that consumers look out in their devices.
However, on a certain level LG Encore has performed average because of the touch screen responsiveness that it has, but still LG Encore can be good buy for those who are looking for average mobile phones.
The best thing about LG Encore is its design. On the outer side you will simply fall in love with the black dark design that shows up. Hence, LG Encore suits both professional and party style. The phone is almost 4 inches tall and 2 inches wide making it a normal candy bar phone with style. However, what differentiates LG Encore from other candy bar mobile phones is its thickness which is just 0.47 inches. The mobile phone does not have any sharp edges and is further rounded from the corners.
The touch screen has a mirror finish that might look awesome when you are carrying it in the night time, but you might have problems handling the mobile phone during the day time.
On the front the 3 inch touch screen is large enough to enjoy the touch screen experience. The screen has 400 x 240 pixels resolution and has 260,000 color display which makes the colors look very vibrant and bright. You can customize the settings as per your preferences and therefore there are 3 different home screens provided by the phone manufacturer.
The dialing keypad is quite simple and does not require any further explanation. You can turn the phone sideways and the accelerometer will do the job showing you a full QWERTY keypad on the screen. The phone book is quite decent and can store 1000 entries where you can store six numbers for each entry.
There are 24 different ringtone and you can add more ringtones as per your choice. It also has a speakerphone and other different options like calculator and world clock. On the back it has a 3 megapixel camera but does not have auto focus for night time photography. The music player is good and has a decent sound that you can enjoy.