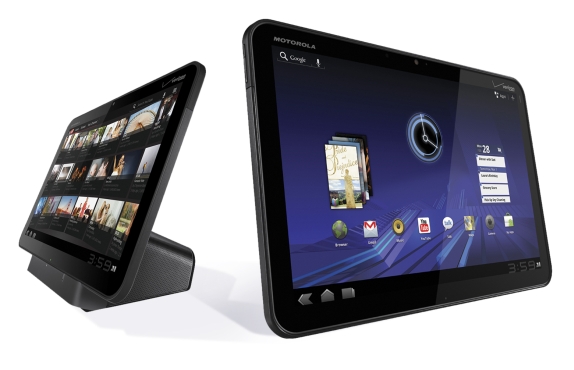 The new Motorola Xoom is available for sale but the timing may not have been worse. Just as Motorola released the new Xoom, Apple announced the next generation of the iPad to be released. Why is this a big deal? Well, the Motorola Xoom was poised to be the iPad's greatest competitor but with a new iPad on the way, it seems Xoom may take a hit. One of the best things working in Motorola Xoom's favor is that it clearly surpasses the iPad.
Motorola Xoom features a very powerful dual core process and runs on the Honeycomb platform (Android 3.0). That tablet pc features a 10.1 inch HD widescreen display, a 1 GHz processor, 2 MP webcam and 5 megapixel camera with 720p HD video capture and playback with digital zoom. And automatic focus. The tablet pc has Android music player and is capable of streaming media. Much of Motorola Xoom's specs surpass those of the iPad.
Motorola Xoom has a dual core processor while iPad has single, Xoom has 1GB of RAM while the iPad has 256 MB and the Xoom has two cameras (a front and rear facing) while the iPad has no cameras. Though both the Motorola Xoom and Apple iPad are roughly the same weight and size their displays are different. The Motorola Xoom features a 1280 x 800 pixel display while the iPad has a display of 1024 x 768 pixels.
The Motorola Xoom is available through Verizon and costs approximately $600.00 with a contract; those without a contract can expect to pay up to $800.00. The iPad is considerably less costing approximately $500.00.
Information regarding the new iPad has been limited but early reports suggest we may hear more details next week.