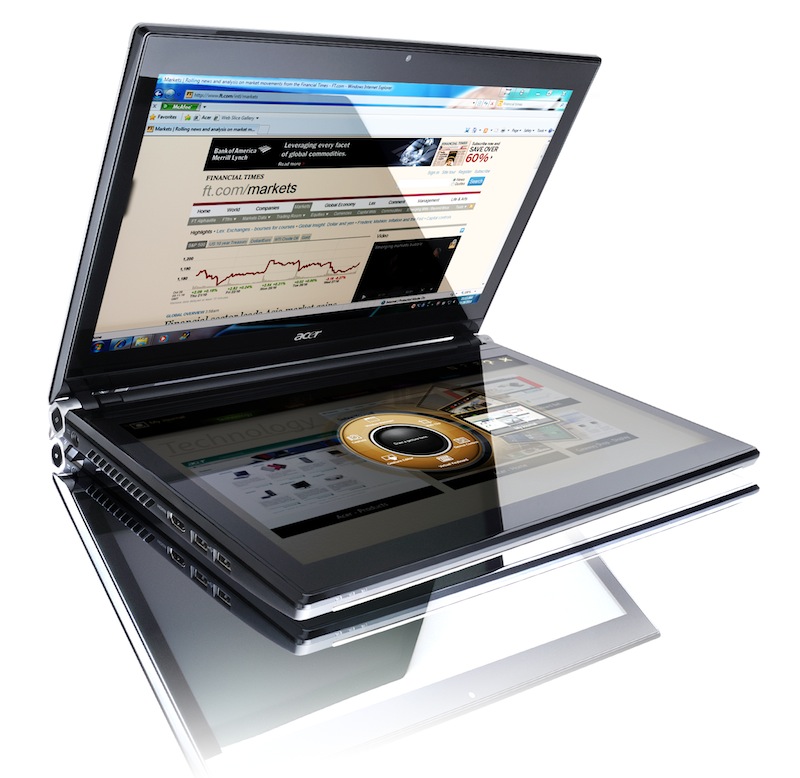 On March 29, 2011 Acer announced that their highly anticipated dual screen Iconia-6120 touchbook was available for preorder in both the United States and Canada. The Iconia-6120 is the world's first 14-inch dual screen touch enabled tablet. The Iconia-6120 combines simplicity of use with the highest level of technology ensuring that users can have a relaxing and trouble free experience.
The dual screen enables users to perform tasks such as watching videos or streaming online events while surfing the web or performing other tasks without needing to struggle between windows, as is often the case. As the Iconia-6120 is touch screen, users can choose between a virtual keyboard or use their finger to control applications and will find that they have greater variety and choice.
The Iconia-6120 uses ultra-thin Gorilla® Glass from Corning which provides the highest protection against scratches and is easy to clean. Senior Product Marketing Manager for Acer America a, Eric Ackerson, released a statement regarding the new touchbook. In a press release he said, "The Acer Iconia Touchbook delivers a computing and visual experience like no other. Whether the Touchbook is used by a small business owner or a student, its unique dual screen design enhances the interaction they will have with their digital data. Our compelling design and applications will let them discover new and much more personal ways to communicate and enjoy the computing experience, regardless of whether it's work related or for personal enjoyment."
The Iconia-6120 is available for preorder and costs less than $1200.00.
Image source Slashgear