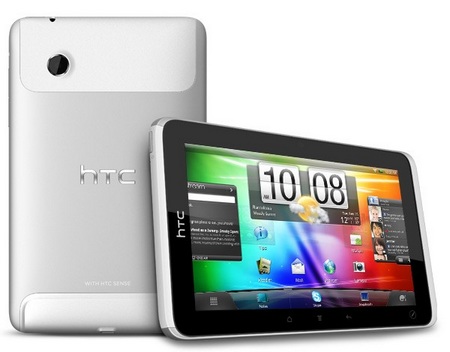 The HTC Flyer tablet pc will be sold exclusively at Best Buy and is expected to make its debut in spring 2011. On March 22, 2011, Best Buy and HTC released a joint announcement speaking of the deal. The announcement was officially stated at the CTIA Wireless event. The HTC Flyer tablet is a Wi-Fi only version and will be available at Best Buy and Best Buy Mobile standalone stores as well as at the official Best Buy website.
The HTC Flyer is described as fast, portable and lightweight. The tablet pc is based on Google Android and ahs a 5 megapixel rear facing camera and 1.3 mega pixel front facing camera with auto focus. The tablet is 7" with a 1024 x 600 touch screen display and users can choose to add the Scribe digital pen for making notes or synchronizing audio.
Scott Anderson, who head Best Buy Mobile merchandising released a statement regarding the news that HTC Flyer was coming exclusively to Best Buy, "Over the past few months we've seen several new tablets enter the market, and we're especially excited to partner with HTC to bring the Wi-Fi version of the HTC Flyer to our customers as a national retail launch exclusive.
"We have worked hard to bring a large assortment of great tablets to Best Buy and Best Buy Mobile stores, and the HTC Flyer is a great example of that effort."
Additionally, Head of HTC Americas Jason Mackenzie spoke about the new HTC Flyer, "Best Buy offers a number of the hottest products on the market, including the all-new 4G LTE HTC ThunderBolt™and now the Wi-Fi version of the groundbreaking HTC Flyer, which brings the acclaimed HTC Sense experience to a tablet for the first time.
"Like all HTC Sense products, the HTC Flyer was inspired by our customers, and offers the most simple and natural experience available on a tablet."