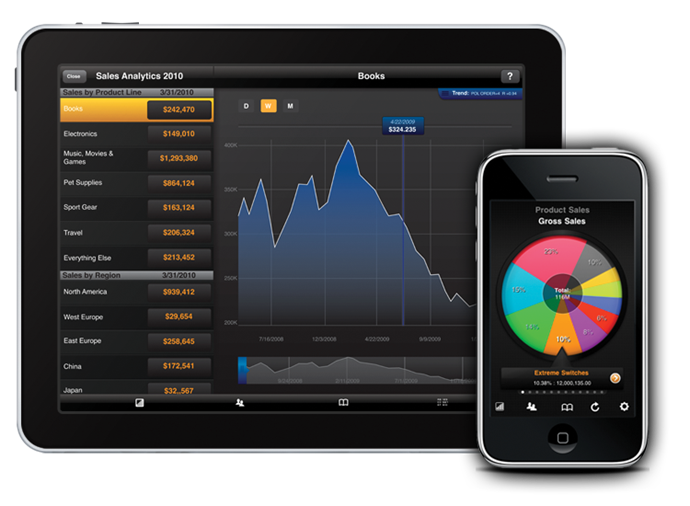 The iPad has truly revolutionized the way people think about computers, carving a new market in the mobile sector along the way, and giving millions of people (mostly of the old generation and young kids) the ability to use the Internet and various computer applications without even knowing how to use a mouse or keyboard properly.
But the simplicity of the iOS interface and apps make it seem like the iPad is meant only for consumers who need a simple device for Web surfing, reading books, watching movies and doing other day to day tasks. That is not true at all, however, because there are a lot of apps made for the business and enterprise sector, and the tablet is already used by thousands of professionals around the world in their work. Here are just a few apps for the iPad that can greatly help any business user:
Dropbox. Dropbox is the perfect way to sync any files between your iPad, iPhone, Mac and Windows computer, in addition to storing backup copies on the premium online account. Indeed, it can easily be used as a files system when you have permanent access to the Internet or your laptop, as you can use Dropbox as a remote hard drive, storing and working with all the data right from that location. There are a lot of other good ways to use it, that's why you should check it out when you have the chance.
Skype. You should be already acquainted with the Skype VoIP and IM service by now, so no need for introductions, but the iPad app is certainly worthy of attention. It can be used to do most of the things you usually do on Skype – chat with people, create conference calls (including video support on the iPhone 4 and iPad 2), find new people to connect with and much more. The app is like a perfect port of the desktop one, but it does use quite a lot of memory because of that.
Webex. If you're a business person who needs to coordinate a project and the workers are contracted from overseas or you just can't make it time for a meeting, Webex comes in to save the day. The service and its iPad app allow you to create or join online meetings, where you can chat with the other participants, share your ideas in text, video or using sketches (the touch screen is perfect for the latter), and basically do everything you would do in person. All while sitting on a beach in a nice resort somewhere in Mexico :-).
The iWork Suite for iPad. Apple's iWork suite is a perfect companion for every business professional and corporate user. The Pages, Numbers and Keynote apps that are included in the $25 package let you do everything from creating documents and spreadsheets right on your iPad (it can also open Word and Excel documents, of course) to presenting them in a nice manner on a big screen using an external projector. In short – a must have on every corporate and business iPad.
Roambi Visualizer. Roambi Visualizer does exactly what its name implies – it helps you visualize any kind of data better, using beautiful and to the point graphs and reports, for better analysis and understanding of the situation. It's like working with Excel or Numbers spreadsheets, only better!
The iPad wasn't really meant for business in the beginning, but just as with the iPhone, companies and individuals alike saw the potential, opening a whole new market for both Apple and app developers. Today, the iPad can replace and improve a lot of things in a business, and with thousands of apps already available on the market, one doesn't need to create a custom program for their purpose – chances are it's already available and it's actually better than you'd ever hoped.
photo Roambi