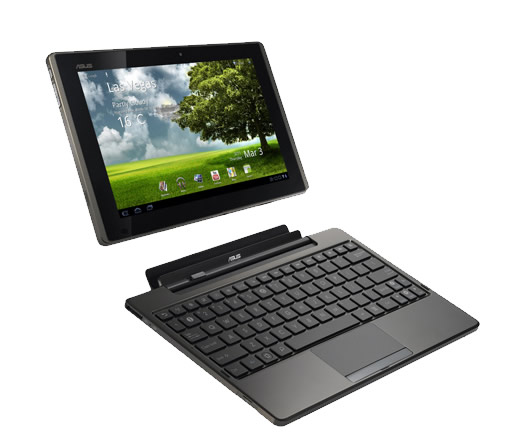 The new ASUS Eee Pad Transformer will hit US markets on April 26, 2011 with a $399.00 price tag. The low cost ensures that the ASUS Eee Pad Transformer is one of the most inexpensive Honeycomb tablet pcs on the market. The tablet operates on Android 3.0 (Honeycomb) and has been dubbed as being part netbook and the other part tablet pc. The Transformer features a keyboard dock, giving it the appearance of a netbook, and is the first in what ASUS hopes will be a long line of high powered, affordable tablet pcs.
Many agree that the price of the Transformer with the fully docked keyboard is an exceptional deal. In addition to the keyboard, the ASUS Eee Pad Transformer comes with a wide 10.1 inch 1280×800 pixel touch screen display. Featuring an NVIDIA Tegra 2.1.0GHz dual core CPU enabling multitasking and also a 1080p video playback. The tablet pc also has Adobe Flash 10.2 support ensuring that users can browse the web viewing videos and playing games.
Though battery life changes due to independent settings and configurations, the Eee Pad Transformer is designed to get a maximum 16 hours ensuring plenty of all day computing. The tablet pc weighs 680 grams and the frame is a slim 12.98mm thick making the ASUS Eee Pad Transformer easy to transport.
Those looking for a tablet pc that provides a number of entertainment features will find the ASUS Eee Pad Transformer delivers. The 2.1.0 dual core processor ensures that the Transformer has the speed needed to perform your tasks while the tablet pc includes a built in 3D stereo experience with SRS Sound, an HDMI 1.3a port, and boasts a 5 megapixel rear facing camera as well as a 1.2 mp front facing camera for web conferencing.
As ASUS has announced they want to focus more on tablet pcs, it appears they are off to a great start with the ASUS Eee Pad Transformer.