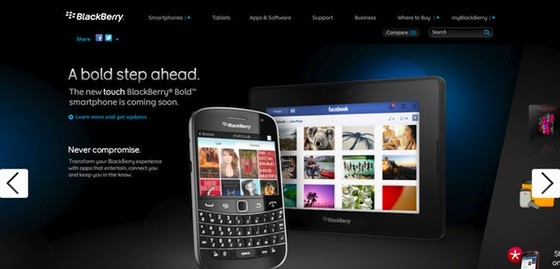 As many BlackBerry fans know, RIM is about to reveal a number of new handsets next week at BlackBerry World. Although no information has been provided on what users can expect to see, we do know that RIM is about to launch a new BlackBerry Bold Touch.
Although still not officially announced, this rumor has been confirmed by no-one else than RIM themselves.
For those who visited BlackBerry's website yesterday, you would probably have seen the teaser image of the new upcoming BlackBerry Bold Touch. For reasons unknown, the image has been pulled from the website.
The new touchscreen-equipped BlackBerry Bold appears to be running on BlackBerry 7, which until recently was known as OS 6.1.
We wonder if the company will leak more information of other devices before its official announcement next week…