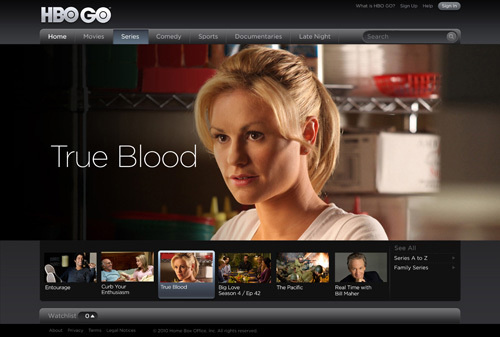 A new app is coming to Apple products such as iPads, iPhones and Android devices that will bring HBO streaming content on demand. The new app titled "HBO Go" will be available for HBO subscribers and is reported to offer every episode from every season of past and current HBO shows as well as a number of HBO movies on demand. As the app will be available to HBO subscribers only, there is a good chance that HBO will see an influx in subscriptions to their premium cable network programming.
The new HBO Go app would turn Apple and Android devices into portable HBO on demand movie and television show players. HBO has a number of hit series including "The Sopranos," "Entourage," "Big Love," "True Blood," "Oz," "Band of Brothers," "Carnivale," "Hung," "In Treatment,""Six Feet Under," "Sex and the City," "Flight of the Conchords," "Game of Thrones," and "Boardwalk Empire." While full details of the new app are scarce, it is believed that users would have access to all of HBO's programming with the app.
The new app could seriously jeopardize many Netflix subscriptions as HBO has refused to sell streaming rights of their content to Netflix. Additionally, the HBO Go app may help HBO regains lost subscribers who may have left in order to get their programming through Netflix' streaming content program.
HBO released a promotional video on YouTube that flashed the date "May 2, 2011" giving the impression that the new app will official debut on that date. At this point, an official release date has not been given and the May 2nd date is the closest to an official time of release. Also not specifically stated but suspected by many who viewed the video is that the new HBO Go app will stream over 3G networks.