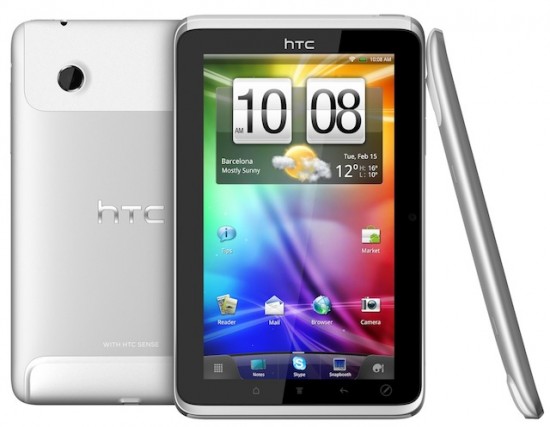 HTC announced on April 12, 2011 that the HTC Flyer would hit European markets on May 9, 2011. The HTC Flyer is one of the most anticipated tablet pcs on the market as it boasts a 7" display and a 1.5 GHz processor. At .52" thick the HTC Flyer is thin and measures 4.8" across and is 7.7" long. The 7" touch screen display features a 1024 x 600 resolution. Weighing 14.82 ounces with battery installed, the HTC Flyer is also well sought after for its light weightness.
Based on Android with HTC Sense, the HTC Flyer also features a 1.3 megapixel front camera for video filming as well as a 5 megapixel color camera with auto focus. The tablet pc also includes 32 GB internal storage and 1 GB RAM.
One of the HTC Flyer's biggest draws is the Flyer's magic pen that enables users to draw, write and add finishing touches to pictures. In addition to the Flyer pen, there is also the HTC Watch which enables users to watch movies on demand. There is also high fidelity sound with SRS Wow HD which provides a better listening experience.
The HTC Flyer comes equipped for children as well as there is a safe kid mode that enables users to let children play on the tablet pc in a safe and secure learning environment. Kids can also use the pen to create their own pictures and images. Also included with the HTC Flyer is a library of classics available for reading. It is unclear when the HTC Flyer will be available for sale in the United States.
photo HTC