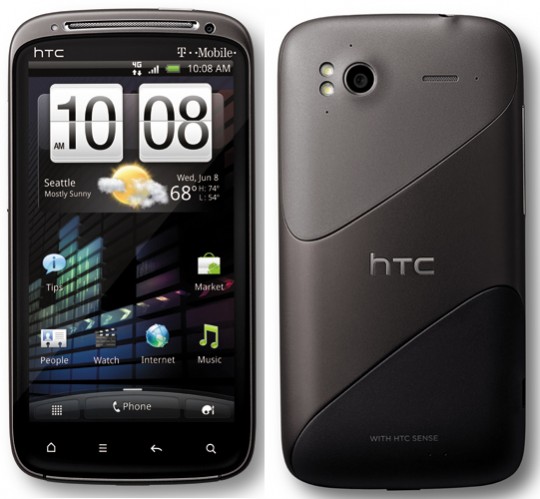 After losing their edge for a little while at the end of 2010, HTC have definitely come back in full force on the mobile market, having already released several pretty amazing devices that have everything people want.
The Thunderbolt is a great choice for anyone who wants a full touch smartphone with a big screen and enough processing power to last for years, but if you want something better, faster and sleeker looking, HTC has got it covered with the new Sensation 4G – a simply amazing smartphone coming to T-Mobile this summer. This device has been known as the HTC Pyramid – and boy, were there a lot of rumors about it!
A sleek exterior, new qHD display and 1080p video recording
Fortunately, almost everything that fans expected turned out to be real – the Sensation 4G may be the most perfect smartphone yet!
The exterior of the new phone looks very sleek – the rounded edges and slim profile remind both of the Thunderbolt and Motorola Droid Bionic – the latter may be because of the new display size and ratio. The Sensation 4G has a qHD screen with a resolution of 960×540, which looks ideal on this 4.3 inch unit. There is also a new 8 megapixels camera on the back with dual LED flash and (finally) 1080p video support – the picture quality has also improved over older HTC cameras, meaning you'll most definitely leave your point and shoot at home with this phone.
Superior processing power in a slim profile housing
Even though the device is only 11.3 mm thick, HTC have still managed to fit in a new Qualcomm dual core Snapdragon platform (the 3rd generation of Snapdragon), with the processor running at 1.2 GHz and featuring a new Adreno graphics adapter for twice the performance over older platforms. Coupled with 768 MB of RAM, this should be enough for literally anything – you could easily edit HD videos and audio using this thing just like you would on the iPad 2 (you'll need the right apps, though)!
Despite the power of the processor and graphics card, HTC have unfortunately integrated only 1 GB of storage memory on the phone itself – enough for installing a ton of apps, yes, but if you want to use its full potential, you'll have to buy an expensive class 4 or 6 micro SD card – though if you need it for storage only, even 32 GB cards are pretty cheap nowadays (still, 8 or 16 GB of internal Flash would've been nice).
The other specs are also up to date, with the Sensation 4G supporting everything from Wifi N, Bluetooth 3.0 and DLNA to assisted GPS, HDMI out (via the proprietary microUSB port) and gyroscope sensor. In addition to the 8 megapixels shooter on the back, there's also a VGA pin hole camera on the front for video calls – a good addition, though I don't know anyone who places video calls :-).
Android 2.3 coupled with the new Sense UI 3.0
Android 2.3 will be powering the new smartphone from the get go, and with HTC's history, I really hope they make it possible to unlock the device and flash custom ROMs on it – that would make its lifetime much longer and open a whole lot of possibilities for developers. HTC will also be using their new Sense UI (version 3.0), with cool 3D effects everywhere and a more customized Android experience. There's been no word on a possible upgrade to Android 3.0, though it should definitely be possible hardware-wise.
The battery life will of course be lower than on current devices, which is very unfortunate, but it's the price to pay for such power in a slim form factor. The phone is expected to provide somewhere between 6 and 8 hours of continuous use – barely enough to make through a day, so power users will most likely want a second battery or USB charger.
The HTC Sensation 4G will be available this summer in Europe, but it's not clear if and when it will make it to the US and Canada. When it's released, it will be one of the best Android devices on the market, and I have no doubt it'll sell very well.