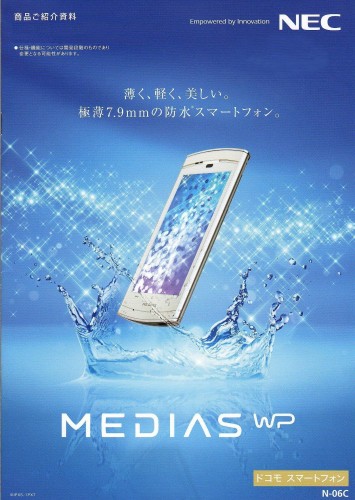 The previous version of world's thinnest smartphone codenamed NEC "Medias N-04C" has very impressive 7.7-mm body with 4.0-inch touchscreen display and 800MHz processor based on Android 2.2 Froyo.
Now, according to http://www.datacider.com/4276.php NEC revealed it's new codenamed "MEDIAS WP N-06C" specs.
This new Medias smartphone is 0.2mm extra thick, has 10mg more wight and touch buttons instead of physical ones. New feature called Medias Link is a tethering when LAN PC can communicate wireless with NEC MEDIAS WP N-06C.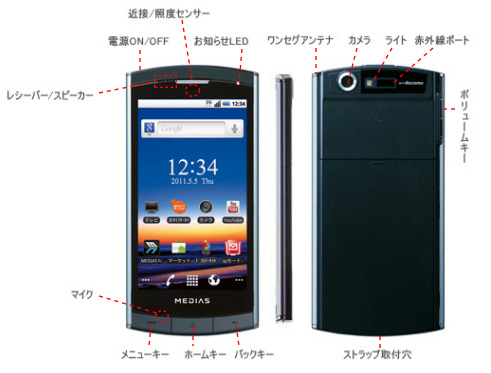 But apart from the faster hardware and communication speed it has very special feature – this is the first Gingerbread powered waterproof smartphone. The phone has IPX5 and IPX7 waterproof ratings, which means it has been tested with conditions where this device can be immersed in water up to 1 meter.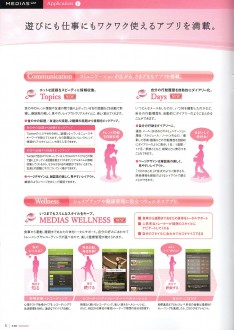 Looking at the brochure we can make a conclusion that NEC MEDIAS WP N-06C targeting women in general and such a waterproof phone could be very useful in your kitchen. Unfortunately, there is no any information about release date, but that device will be available in Japan only via NTT DoCoMo carrier.
Key specs of NEC MEDIAS WP N-06C:
Dimensions: 128 × 64 × 7.9mm
Screen: 4-inch LCD
CPU: 1GHz Qualcomm MSM8255
FOMA High speed packet communication up to 14 Mbps (available in the FOMA HIGH-SPEED area)
ROM: 1Gb
RAM: 512MB
WiFi: 802.11n
Camera: 5mp with
video: 720p
Source Datacider