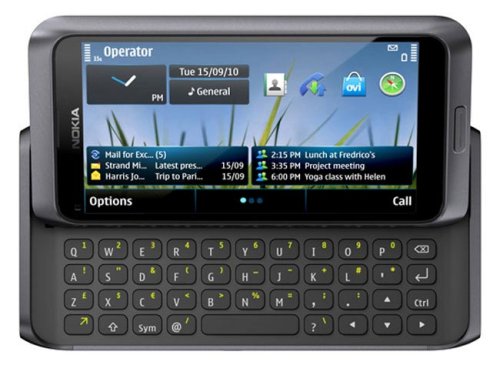 The Nokia E7 is now available in the US and you can order the European smart phone on Amazon for $649.00. The price is cheaper than the pre order which goes for $679.00 and is sold from Amazon unlocked. The phones will ship from Nokia this month but you can order yours direct from Amazon, without the need for any contracts, and have it shipped immediately.
The Nokia E7 features a 4" AMOLED touch screen with a full slide out QWERTY keyboard. The smart phone also comes with Quickoffice which enables you to view and edit documents and files. The phone also allows you to view PDF files with Adobe Acrobat Reader. The Nokia E7 has a built in GPS navigation along with maps, provide free for life, an 8 MP camera and HD video.
Reading your email on the Nokia E7 is simple as the phone lets you easily access email accounts such as Hotmail, Yahoo, Gmail, Ovi Mail and more. You can also set up your own email account through Microsoft Outlook, as well as access your social media networks and easily chat with sms.
Additionally, the Nokia E7 has been designed for easy viewing in outdoor natural light as the AMOLED glass display reduces glare while providing protection for the screen. The phone also comes with plenty of apps as well, including on demand Web TV (purchased separately and according to region) and provides users the ability to not only watch YouTube videos, but to upload their videos straight from their phones to the YouTube website.
The discounted price on Amazon has made the Nokia E7 a popular choice. At this time, it is unclear how long the discounted price will remain on the Amazon website.