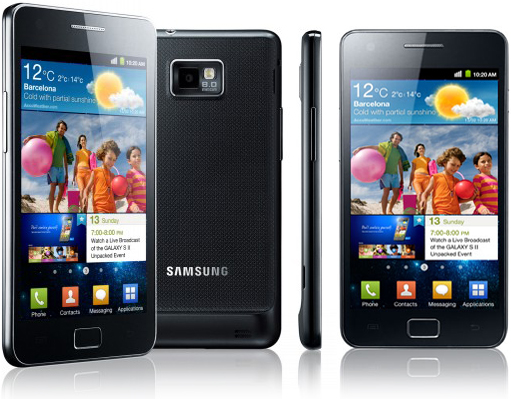 On April 11, 2011, Samsung released a statement announcing that the new Galaxy S II would be available for sale in the UK on May 1, 2011. Samsung describes the Galaxy S II as the thinnest and slimmest smartphone in Samsung's gallery of phones. Additionally, the Galaxy S II features a Super AMOLED Plus screen that delivers the most colorful screen as well as brightest and largest display in all of Samsung's products including smartphones.
Weighing 116 grams and measuring 8.49 mm, the Samsung Galaxy S II is extremely lightweight and slim, making it fit comfortably in a pocket while delivering the power of a top of the line smartphone. Based on Android 2.3 platform, Gingerbread, the smartphone has blazing speed as it features a dual core 1.2GHz processor.
As the screen is Super AMOLED Plus you can also enjoy easy viewing in both natural sunlight as well as indoors under artificial light. The super fast processor ensures that you can easily handle multitasking with your smartphone as well as access the Internet as well as social media networking sites quickly and easily.
Managing Director for Samsung UK and Ireland Mobile Simon Stanford released a statement regarding the release, "From the moment it was revealed at Mobile World Congress in Barcelona there has been a huge buzz about the Galaxy S II, so we're pleased to announce that it will be available for UK customers to buy from 1st May.
Our slimmest, lightest, fastest smartphone is our first device to offer of Super AMOLED Plus screen technology, alongside the most advanced technical specifications including the latest Android OS and a dual core processor. We're confident it's a great package for anyone wanting a superior smartphone experience."
Source Samsung