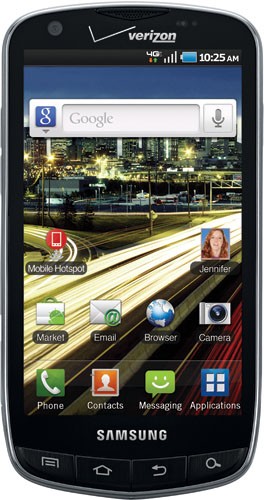 Verizon is continuing to upgrade and expand their smartphone offers, and lately they've been announcing only high end devices with so much power that even the more tech-savvy people couldn't possibly take advantage of it every day. Consumers were sort of left out, but it doesn't mean that the company forgot about them.
After they finished with the high end and expensive devices, they started announcing the more affordable smartphones. Among the first ones is the Samsung Stealth V, which may also be known as the Droid Charge or Droid Stealth (apparently the final name hasn't been decided yet) and has support for the new 4G LTE network, as well as a nice array of hardware and software inside it.
Retro feel and a beautiful 4.3 inch display
On the outside, the device looks pretty nice and will definitely appeal to the masses, as it has a sort of "retro" feeling to it (the rounded edges and four hardware navigation buttons at the bottom reminds me of the old U series sliders) that will make it look more familiar and user friendly to those who aren't used to the new all-touch slab smartphones or big QWERTY keyboards.
The screen is a marvelous 4.3 inch, 800×480 pixels Super AMOLED unit from Samsung, which is simply one of the best on the market, and it provides excellent colors, brightness, contrast and readability in dark conditions, as well as direct sunlight – the perfect screen, indeed. Above it is a small 1.3 megapixels camera for video calls and of course, the speaker. On the back, there is a nice 8 megapixels camera with LED flash that should be more than enough for taking quality pictures and filming HD videos.
Great performance, despite the slightly old hardware
The internal specs aren't impressive by any means, but the phone is more than capable on taking on any kind of apps you can throw at it, as it features the old and proven 1 GHz Hummingbird processor, with the PowerVR SGX 540 graphics adapter (still one of the most powerful adapters in the mobile world!) and 512 MB of RAM – these specs are indeed a bit outdated compared to the new dual cores, Gigabytes of DDR2 memory and multicore graphics chips, but I personally have yet to see a Galaxy S (which has the same processor) be slow in any app for Android. The benefit of using the chip is its cost – by now, it's very cheap to produce, therefore reducing the total phone cost by a large margin.
Android 2.2 + Touch Wiz 4.0 – the perfect combination for new users
The Stealth V runs on Android 2.2 Froyo – a proven and stable OS that has everything a new smartphone user might need to get started, and an upgrade to 2.3 is also possible in the future. Samsung of course, used their own Touch Wiz 4.0 user interface, which in this case is a welcome addition, as it makes things easier for users who don't need/want to customize their phone themselves. On the inside of the phone, there's a 1500 mAh battery, which should hold the charge for about a day – pretty standard for any smartphone.
The phone should debut on Verizon's network by May, and it will certainly be in the lower end cost category – something like $50-100 with a contract is likely. If you have an old cell phone and want to finally switch to a smartphone, this might be the best variant.