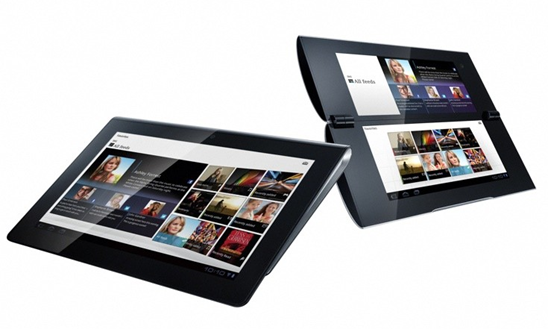 At a press event in Tokyo, Sony announced the launch of its S1 and S2 dual-screen tablets. According to Sony, both devices will run on Google's Honeycomb operating system.
The S1 Media Tablet (Qriocity) will look much like a folded magazine with its curved top appearance. The device will consist of both a front and rear-facing camera. The device features a Tegra 2 SoC and customized touch panel UI with a 'swift' browser. According to Sony, this device can also be used as a remote control for Sony gear thanks to integrated infrared.
The second tablet, the dual-screen S2 Clamshell comes with a pair of 5.5-inch, 1,024 x 480 pixel display, Tegra 2 SoC and a camera. When the device was displayed, Sony took advantage of the two screens with a custom book-style UI layout for its e-reader application, e-mail and much more.
Both the devices are PlayStation certified, support DLNA and are WiFi and 3G or 4G compatible according to the company.
An exact release date for the tablets has not been announced, but according to rumors they may be available in the United States by fall. Rumors also have it that the devices will start at a price of $599 and $699 for the S1 and S2 respectively, although this has not been confirmed by Sony.