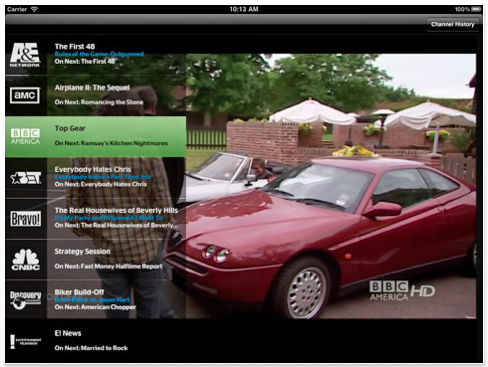 Time Warner has been under fire by television networks that say the cable television provider doesn't have the legal right to broadcast cable programs through its new TWCable TV app. Time Warner has held fast to their belief that providing the live streaming content through the Apple app that essentially turns an iPad into a television is well within their legal rights. After receiving multiple cease and desist letters, Time Warner decided to take legal action. On April 7, 2011, Time Warner filed a request for declaratory judgment relating to Viacom cable networks.
According to a press statement by Time Warner, they are specifically requesting, "The court to rule that Time Warner Cable's rights under its carriage agreement allows it to deliver the programming of this company over its cable systems for viewing on devices of its video customers' choosing, including iPads, in their homes. The case was filed in the United States District Court for the Southern District of New York."
Not long after the case was filed, Viacom released a statement announcing they have filed their own lawsuit against Time Warner. You may read the full statement by Viacom below.
"Viacom has always negotiated rights to distribute our content based on specific technologies and devices to ensure that the unique business issues, such as security, product quality and audience measurement, are properly addressed. Instead of addressing these issues, Time Warner Cable simply launched the product without a license to distribute our programming through an iPad app.
"They blatantly grabbed the rights that their competitors have negotiated in good faith to obtain. Time Warner Cable removed our programming from this service only when they were threatened with a lawsuit and, now, it is asking the Court to declare their brazen acts lawful. Regrettably, all of this has compelled us to file a suit of our own – as Time Warner Cable refuses to even discuss the business issues.
"With $5.2 billion in cash from operations last year, Time Warner Cable can certainly afford to provide our programming through this new broadband service without passing along any additional costs to its customers."
Time Warner Cable explained in their lawsuit why they believe they have the legal right to provide the programming to their customers. Executive Vice President and General Counsel of Time Warner Cable Marc Lawrence-Apfelbaum stated, "We have steadfastly maintained that we have the rights to allow our customers to view this programming in their homes, over our cable systems, without artificial limits on the screens they can use to do so, and we are asking the court to confirm our view. With over 360,000 downloads of our TWCableTV™ app, it is clear that our customers welcome the convenience and flexibility our new app provides."
There are currently 43 channels available for customers to choose from. The TW Cable TV App was released on March 15, 2011.