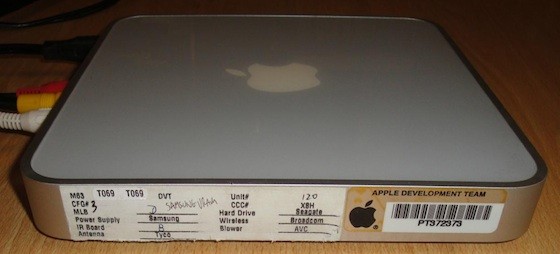 It has been reported that a new eBay listing caught the attention of a number of tech and Apple fans – a prototype of the original Apple TV. The iTV, as Steve Jobs unveiled the device back in 2006, was listed on eBay with a "Buy it Now" price of $350.
The image above clearly show that the device is indeed a prototype unit, as it consists of an Apple Development Team barcode and a sticker that marks the device as a "DVT" prototype. Another indication is the logo at the top of the device. The prototype only had one logo at the top of the device, while the final Apple TV had the Apple logo along with the letters "TV" marked on top.
The prototype device sold fast, as expected. These development devices could almost be seen as 'collectors items', and the price tag of $350 is relatively low.
Unfortunately, Apple is not keen on users selling prototype units on the Internet. They usually are quick to put a stop to these types of auctions, but some devices sell quick, before the company can intervene.
Other Apple prototype units auctioned online include the iPhone, MacBook Air and a Macintosh Portable Computer.