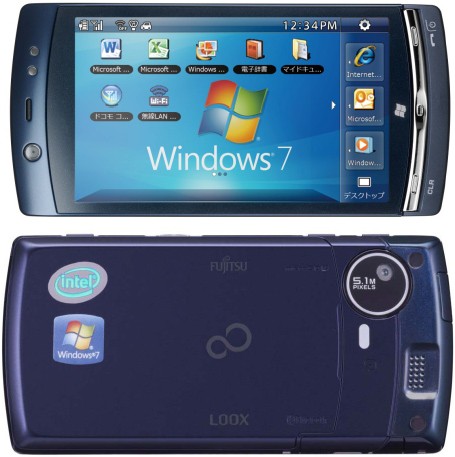 To many who read about the rumors, this may indeed come as a shock – The dual-booting booting Fujitsu Loox F-07C turns out to be legitimate!
According to a preliminary specifications sheet from NTT DoCoMo, this 7.69-ounce landscape slider is in a position to handle both Symbian and Windows 7 with its 4-inch 1024 x 600 LCD, along with a 1.25GHz Intel Atom processor, 1GB of LPDDR400 RAM, 802.11 b/g/n WiFi, 32GB of eMMC disk space and expandable memory via microSDHC.
The device also boasts with a 5-megapixel autofocus camera with face recognition at the back of the device, coupled by a VGA front-facing camera.
According to information, the battery life does not fare bad. In 'Mobile Phone Mode' users will get around 600 minutes in stand-by time. Users will also get around 370 minutes of 3G talk time. In Windows 7 mode, you will get around only 2 hours of battery life. Once the battery becomes low, the phone will automatically switch to 'Mobile Phone Mode'.
The phone also consists of an HDMI-out via a USB adapter.
It is expected that the device will launch around June or July and may go on retail at price of $860.