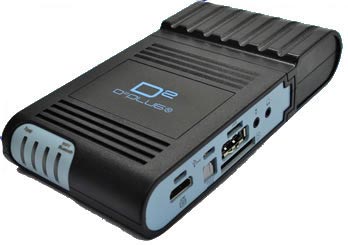 It will not replace your current desktop PC right away, but Globalscale's latest plug computer, the D2 Plug, does offer users a number of desktop-like traits!
The latest Lilliputian Linux / Android kit touts Marvell's PXA510, a comfortable 1GHz ARMv7 processor, which supports 1080p video playback and 3D related graphics. The D2 Plug runs on two watts and features 1GB of DDR3 memory, 8GB of NAND flash, an SD card slot, eSATA port and multiple points of connectivity, which include two USB 2.0 ports, gigabit Ethernet, HDMI and VGA.
The D2 Plug measures a mere 6.7 x 3.22 x 1.3 inches.
The device will go on retail at a price of $249.