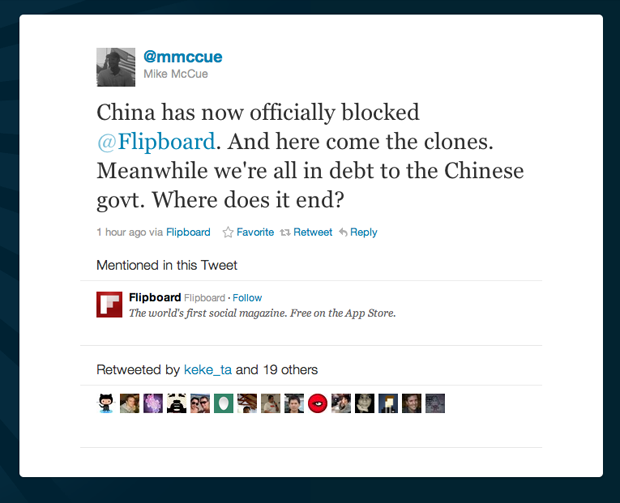 It has been announced today that various aspects of the Flipboard iPad App has been blocked for users in China. Some of these aspects include access to FaceBook and Twitter. Access to Twitter and FaceBook has been blocked by Chinese authorities, but users were in a position to access these services via the Flipboard application. The Flipboard application communicated with its own servers in the United States, which allowed for the access to these services via the app.
According to developers of the Flipboard applications, they unwittingly poked a hole in the 'wall', which has now been closed by Chinese authorities. It is still unknown how many websites are affected to users of the app. The application, however, is still available in the App Store to Chinese users.
The company also said that Chinese users remained a small percentage in terms of all users making use of the Flipboard app. Flipboard recently raised $50 million based on a $200 million valuation.
According to Flipboard, there are a number of clones, such as ICare, MagSina and Netease Reader, which still remain very popular amongst Chine users. The company said that these apps are complete replicas and offer super slow performance to users.
The question asked is: "Do the Chinese Government sensor US services to protect their regime or to protect their market?".
The company did not provide any more information in terms of actions planned.
image source techcrunch