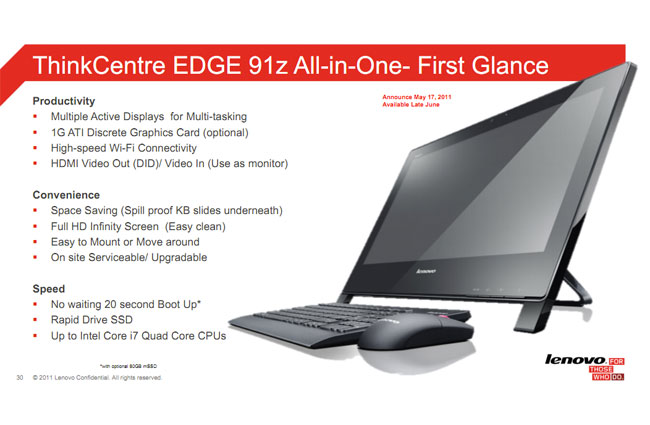 Those who are looking for a sleek, angular slab of an all-in-one desktop computer may be in luck! The team over at Engadget recently intercepted plans for the new Lenovo ThinkCentre EDGE 91z. According to Engadget, the computer will be announced in two days and Lenovo plans to ship the device by June.
The device consists of a 21.5-inch, 1080p screen and can be configured with low-power Intel Core i7 processors, discrete ATI graphics and a 80GB mSATA auxiliary SSD. According to Lenovo this device has the capability of booting up in only 20 seconds.
Users will also find an HDMI output and VGA input to connect a second screen. It also consists of a 'spilfroof' wireless keyboard, VESA mounting options and a built-in carrying handle.
According to the leaked documentation, the computer may retail at prices ranging between $700 and $1200.
More information is available at Engadget