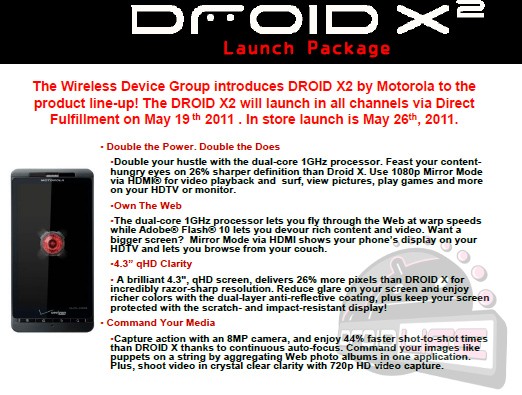 Although not yet confirmed officially, rumors are doing the rounds that the Droid X2 may have a launch date in the United States.
Droid-Life has announced that it came across possible promotional material discussing the launch strategy of the new device, along with specifications of the device.
From the material it would appear that the device is set for a May 26 launch, with early pre-orders as early as May 19.
According to the material the device runs on a dual-core Tegra 2 1 GHz processor. It consists of a 4.3-inch qHD screen, an 8-megapixel rear camera and 1080p HDMI-out. It is also said that Gingerbread may be found on the device.
In an earlier report by PocketNow, it was suggested that the device will only have Froyo as an operating system. This leaves us thinking about the material leaked on Droid-Life, as well as the report on PocketNow.
Whether the device will be launched on this date, and who will win this spec-race remains to be seen.