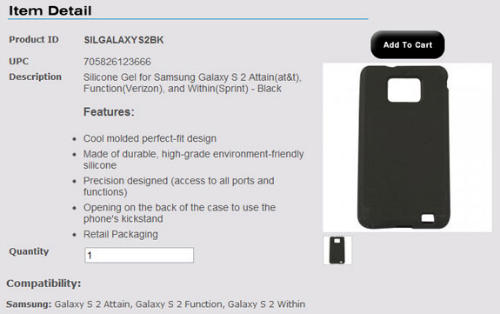 As anticipation is growing for the release of the Galaxy S II smartphone in the United States, the folks over at PocketNow have unearthed a silicone case for sale that list the three names as the particular branding the device will enjoy at the various carriers in the United States – giving us a glimpse into who the carriers will be of Samsung's new flagship.
The device will be branded differently with AT&T, Verizon and Sprint. The Galaxy S 2 Attain will debut at AT&T, Galaxy S 2 Function at Verizon and Galaxy S 2 Within at Sprint.
Earlier trademark filings by Samsung for the terms Galaxy Attain, Function and Within leads us to believe that we are indeed looking at the final products with the three carriers.
It is strange that we miss the T-Mobile name on the list. The reason for this may perhaps be the fact that their variant of the Galaxy S II is materially different in design to the original Galaxy S II.
One good thing though is the fact that the same silicon case will be interchangeable among AT&T, Verizon and Sprint devices!