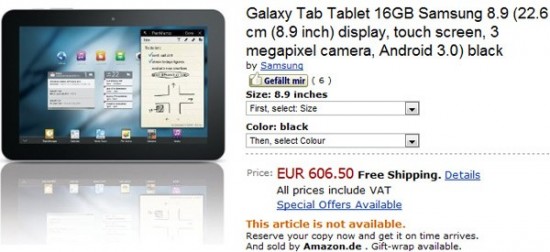 Amazon.de may have squashed a number of rumors in Europe about the launch date and price of the Galaxy Tab models. The company recently listed the 16GB Galaxy Tab 8.9 at a price of €606, whether you are interested in buying the white or black version.
The price may sound steep, but it is unknown if this is the WiFi-only or 3G version of the tablet.
On the same page, users will find an option for the Galaxy Tab 10.1, which has no price attached to it.
Well, it looks like the wheels are in motion for the launch of these Honeycomb tablets in the European market. We suspect that the device may hit stores around the same time as expected in the United States.