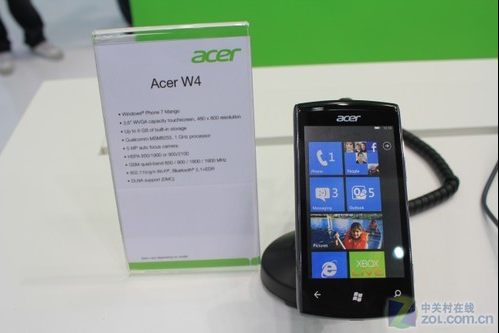 Acer has begun displaying a new prototype of its first Windows Phone 7 device, dubbed the Acer W4, at Computex. The handset will be Acer's first device running on the Mango operating system.
The Acer W4 handset offer users access to a 3.6-inch WVGA capacitive touchscreen with a 480×800 resolution. The W4 will run on a 1GHz Qualcomm MSM 8255 processor and offer a massive 8GB storage capacity.
The new W4 also offers Wi-Fi, quad-band 3G and Bluetooth 2.1 in terms of connectivity. It also has a trendy 5-megapixel camera with autofocus at the back of the handset.
No pricing or release date information has been supplied by Acer, but judging by the fact that it runs on Mango, will suggest that the release time will not be before the end of summer in the United States, United Kingdom or Europe.