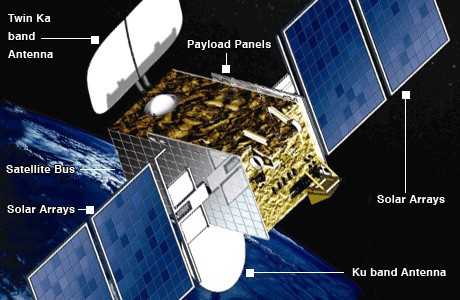 It has been reported that Europe was well underway extending its already-extensive broadband coverage by launching a new satellite, but now that Eutelsat's Ka-Sat satellite has official gone into service that has become a reality.
The new Ka-Sat satellite was launched from Kazakhstan in late December and currently makes use of so-called spotbeam technology, which generates areas of connectivity as big as 250 kilometers wide, with a single beam carrying a total capacity of 900MBps.
The Ka-Sat satellite will reach far across the European continent in order to provide Tooway's high-bandwidth to an estimated number of 13 million households in remote locations.
Subscribers to the new service will have access to download speeds of up to 10MBps and upload speeds of around 4MBps. According to a report, users will need to happy with latency in the order of 250ms, which will make playing online games very difficult for gamers.
According to a report, the Ka-Sat's 82-beam network structure will significantly lower costs, and enable Eutelsat to offer prices that are on par with current market rates.
According to Eutelsat, users will need to pay an additional €250 for the 77cm dish that will be required to make use of the service.