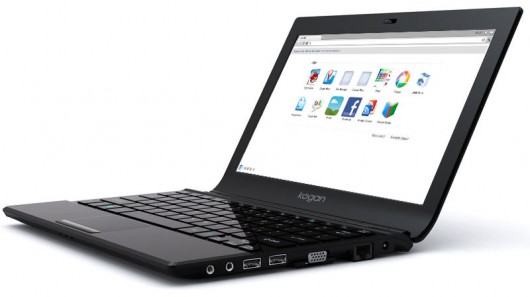 While Acer and Samsung are about to launch their versions of notebooks that runs on Google's Chrome operating system later this year, an Australian manufacturer, Kogan, has announced that they are ready to ship the world's first notebook operated by the same operating system.
The new Kogan Agora, which has previously been a smartphone in Australia, is said to be the world's first notebook which runs on the Chrome operating system and will be available on retail from June 7.
The 11.6-inch Kogan Agora will run on a 1.3GHz Celeron M ULV (ultra-low voltage) CPU with 1GB of RAM, which is upgradable to 4GB. It also has an Intel GS40 chipset with 256M of shared memory, which will be responsible for handling graphics. The device also has a small 30GB SSD, a trio of USB ports, a HDMI port, a memory card reader and a 1.3-megapixel webcam.
According to the company, users will also be able to connect to a Wi-Fi network, while the battery offers an operating life of about 3.5 hours.
The Kogan Agora notebook is now available for pre-order in Australia and the UK at a price of £269.