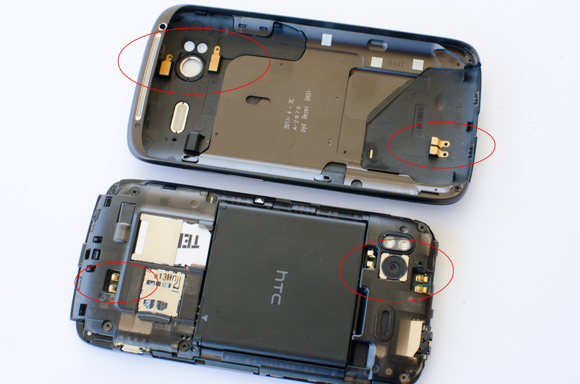 Some visitors may remember some time back last year, when it was reported that the iPhone 4 suffered from a malfunction, referred to as the 'Death Grip Syndrome', where phone signals would suddenly drop if the mobile phone is held in a certain way. Well, now it appears that the HTC Sensation may be the next device suffering the same problems, which is probably caused by the way the device is engineered.
Nordic Hardware tests have revealed that the HTC Sensation will also lose its signal if the phone is held in a certain way, but the Sensation has other problems as well. It will also affect both the Bluetooth connectivity as well as Wi-Fi.
The problem has been identified as the back cover of the device. The handset relies on a relatively large removable batter cover at the back of the device that is mostly prefabricated out of metal, complete with plastic areas that function as antennas. These areas will experience a drop in performance whenever a users' hand covers it, especially affecting Bluetooth and Wi-Fi radios.
The video below shows the problem in more detail. HTC has yet to comment on the problem and come up with a solution to the many users of this popular handset.