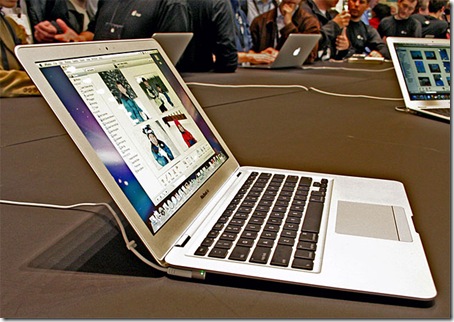 For a while now rumors have been doing the rounds that MacBook Air fans could soon see their devices running on Intel's Sandy Bridge chips. It appears that fans would not need to wait too long, that is if a recent report by Wall Street analyst, Ming-Chi Kuo, has any substantial facts to it.
According to the report, Apple has started placing orders for nearly 400,000 MacBook Airs containing Core i5 and Core i7 chips.
More than half of the new MacBook Airs being produced this month are expected to be the 11.6-inch model, which is more popular than the 13.3-inch brother, mainly due to the $999 price for the entry-level model of the device.
The new Core i5 and Core i7 chips contain between 3- and 5MB of Smart Cache and is capable of supporting up to 8GB of RAM. Current MacBook Airs are making use of Core 2 Duo chips which are capable of only supporting up to 4GB of DDR3 SDRAM.
According to rumors, the new MacBook Airs will also be able to support the new Thunderbolt I/O technology.
No information has been provided on when the devices will be available on retail or pricing.