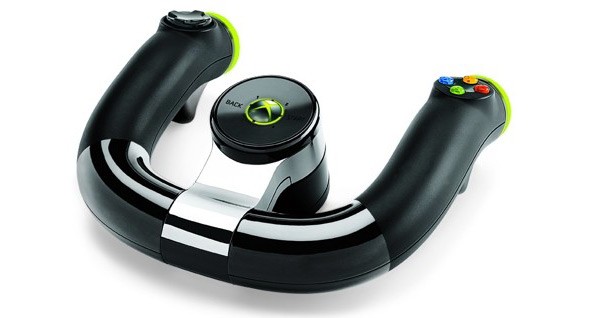 Those who have been following E3 will know that Microsoft's Kinect motion controls will be infiltrating a number of games this year as announced by the company and game manufacturers at the prestigious event. Now, a new Wireless Speed Wheel has just been unveiled, and it is said to be available by early October.
Looking at the image above of the new device, it looks like it is only ¾ of a wheel, but that allows for extra green bands of lights to be applied, and also a set of directional and action buttons to be added to the handles of the Wheel.
The device will also come with a rumble pack inside for force feedback and a pair of trigger buttons on the underside for smashing the gas or hitting the brakes.
The new Wireless Speed Wheel is expected to be available on retail at a price of only $60.