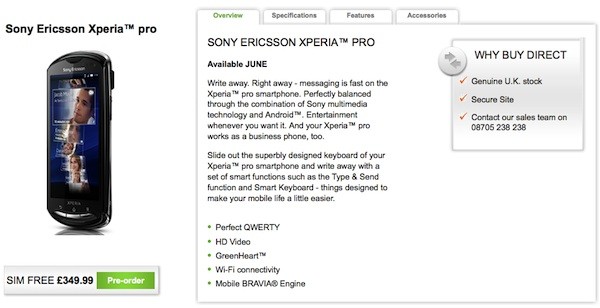 Since Sony announced the Xperia Pro at the Mobile World Congress back in February 2011, not a lot has been reported on the handset, but now the cmpany is getting things on the roll. According to a recent report, the Sony Ericsson Xperia Pro is now available for pre-order in the United Kingdom.
According to the image above, it appears as if the device will go on retail at a price of around $500, and is expected to be released in July.
The Xperia Pro device consists of a 3.7-inch, 854 x 480 display and runs on a 1 GHz Snapdragon CPU. It will come with Android 2.3 as operating system. The device also boasts with an 8-megapixel camera with LED flash at the back as well as a front-facing 2-megapixel camera. According to information from Sony, device will come in silver, red and black.