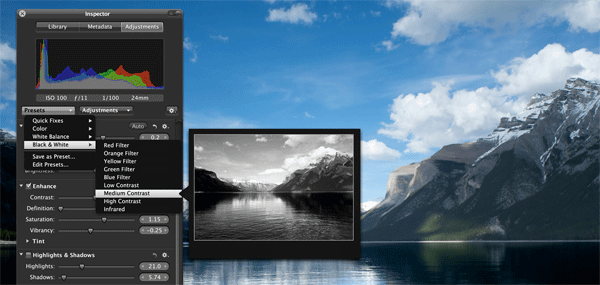 Mac OS X is practically the best operating system out there. It combines good looks with a very nice environment for developers and a lot of features for advanced users, while still allowing novice to learn the ins and outs very quickly. The third party apps are also some of the highest quality around – have you ever seen a bad Mac OS X app lately? With that in mind, here are just a few of the apps you should check out now if you have a Mac:
Quicksilver. Quicksilver is definitely one of those apps that can only be recommended as a "must have". It allows you to work more effectively and be more productive on your Mac, by adding new functionality like the ability to launch an application, find any files, find text, manage multiple items in the clipboard, and more – all with a few keystrokes and mouse clicks. Even though a lot of its functionality has been replaced by Mac OS X own Spotlight, there's still a lot of things that only Quicksilver can do right.
Dropbox. Dropbox is one of the most popular "cloud age" apps for Mac OS X, and it has gained quite a following in the past couple of years. The service lets you upload all the files you want to a secure online storage space, and also keep synced copies on any other device that has the client installed and configured (your iPhone or Android phone, Windows PC, etc.). This way, you can access your data anytime, anywhere from any computer, and easily share it with other people. Using Dropbox is just as easy as using a folder – just drag, drop and forget.
Soulver. This app is the missing link between Excel/Numbers and a calculator. It's simpler than the former two, but slightly more complex than the former, giving you the ability to do quick calculations as well as perform any number crunching tasks that you might need. With Soulver, you don't need to switch between a text editor and the calculator – the app has both, and you can use it to solve a simple math problem, as well as calculate the budget for your next project.
Growl. Growl is a great app for Mac OS X, which gives you a new way of receiving notifications from your favorite apps. The applications in question must support Growl, but that should be no problem, as most of the good apps out there already do. Growl lets you configure how and when the notifications will appear, and you have the ability to set them up for almost any task that the app does – a download has finished, you receive a popup, a file has been modified, you get notified – you'll never miss a thing with Growl.
Scrivener. Scrivener is THE tool for anyone who needs to write an extensive article or a book. This app has everything you need to start a book from scratch and finish it without ever switching to another window. Not only does it give you a nice text editor, but you can also save different versions of the text, create notes, drafts, find and store sources, create an outline of your work, export in any format, and much more. It may seem complex at first, but once you get used to it, you won't be able to live without it.
There are a lot of other great apps for Mac OS X on the official marketplace, as well as all around the Web, but before you go searching for other good stuff, be sure to check out the above five-o – you won't be disappointed!