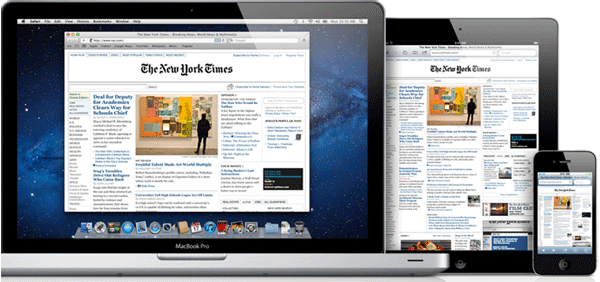 Apple Mac OS X's stability and functionality are practically the best on the market, and the user interface has yet to be beaten in ease of use and intuitiveness by any other platform. The apps designed for Mac OS X follow this great tradition and set new standards in usability and functionality every year.
Apple's own web browser, Safari, has always been a great browser, especially for one that comes installed by default (I'm comparing it to the world famous bugger Internet Explorer :-), but recently its functionality began to lack support for advanced and more modern features like better ad blocking, security standards and extension capabilities.
When Firefox and Chrome have been released for Mac OS X, they began to get users on their side extremely quickly and Apple decided it was time to change things. So was Safari 5 born.
Safari 5 is an amazing modern browser, supporting every new piece of technology you can name, including HTML 5. But the biggest addition is the support for extensions. When Safari's database of extensions will start numbering in the thousands, it will most certainly become a fierce competitor for Chrome and Firefox on Mac OS X.
For now, there aren't that many Safari extensions, but the collection is growing every day and already includes quite a few great extensions that a lot of people will find useful. Below is a list of the best.
SaveTabs. This is an extremely useful extension that allows you to save all of your currently open tabs and reopen them later at any time you want. It's surprising that web browser developers don't integrate such things into browsers by default. Until now, you could only do it in Chrome and Firefox, but now you can also do it in Safari 5.
Mouse Gestures. Being that the Apple Magic Mouse is such an advanced and cool piece of technology, it would be a shame not to use it fully. This Safari extension allows the user to do exactly what its name implies: control various browser functions using mouse gestures. It's pretty useful when you want to perform different actions quicker than usual.
BugMeNot. This extension will come in pretty handy when you need to view or download something from a site, but you don't have the time or desire to register. It accesses the BugMeNot database of usernames and passwords to allow you quick access into hundreds and thousands of online forums, social networks and other sites.
Share with Facebook. This extension does what the name says: lets you share anything you find interesting on Facebook with the click of a button (that is always located in the toolbar). Useful if you like to share stuff you find online with your friends.
Safari140. Like the extension above, but for Twitter. You can post anything directly to your Twitter account (be careful not to accidentaly post something you don't want to, though :-), and the extension also shortens long URLs for you using a 3rd party online service like bit.ly. Pretty handy.
View Style Sheets. View Style Sheets adds a new option in the drop down menu that lets you, well, view all the style sheets that the current page uses. Very useful for web developers and designers that want to take a quick look at how a site operates without starting their 3rd party tools.
User CSS. This is a great extension that lets you personalize the way any site renders in your Safari browser and appears on your screen. It basically lets you replace the site's CSS files that are sent from the server with your custom ones that you save on your computer. Now you can have Twitter feeds on your Facebook main page or the latest RSS feeds on any site you like and frequently visit.
NoMoreiTunes. This nifty extension disables the script that runs iTunes every time you click on a link that leads to the iTunes store. I don't know why Apple thought it would be a good idea to do that, but the fact is that it's extremely annoying for many people. This extension will finally save you from that.
There are many more Safari extensions that you may find useful, just search for them in the database. Developers are also working on new extensions and porting the best ones from Firefox and Chrome, so if you like Safari you should be able to install your favorite extensions from those 2 browsers soon enough.