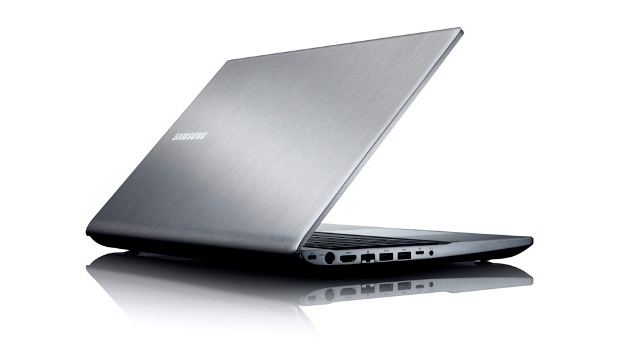 Samsung has been on a roll this year, releasing one successful product after another, not only in one, but multiple niches, which is very impressive. They really want to take over the consumer and business electronics worlds, and if they keep churning out tablets like the Galaxy Tab 7.7 and laptops like the Series 9, I don't see why they shouldn't :-).
Speaking of which, the 9th wasn't the only impressive series of laptops they have demonstrated – there were also the ChromeBook and of course, Series 7 – another great line of laptops to fill up the stock of the various stores worldwide and make the customers happy. The 7s aren't exactly top of the line, but they have a lot of premium features, and are definitely better in most regards than just about any other consumer line of laptops around – in fact, that's why Samsung has aimed them at both businesses and consumers, as both types of users will be equally happy with the new series.
There are 3 models in Series 7 – with a 13, 14 and 15.6 inch display, all of which come with different hardware configurations under the hood, and are perfect for slightly different types of users: while the 15.6 inch is portable enough, it's meant more for heavy duty work on a desktop, while the 13 inch is the perfect ultra-portable at a great price that can easily compete with the MacBook Air (and outcompete it!). The 14 inch model is actually a perfect middle ground – it fits a slightly bigger display and more processing power in a form factor that is just a tiny bit larger than the 13 inch Series 7.
All laptops have a very appealing exterior, with a brushed aluminum finish all around, with the notable exception of the palm rest, which is a shame, since aluminum under your hands feels very nice (MacBook and Elitebook users can attest to that) and removes any possibility of a flex or blemishes after prolonged use. Still, the Series 7 laptops are built like tanks and feel very sturdy, with no flexes anywhere, even on the plastic palm rest, so everything is fine with the construction, and the aluminum lid just looks very professional and classy. The screen on the 15.6 inch model is matte, which you'll appreciate if you have to work a lot in various lighting conditions, and the resolutions on all models are more than adequate for any kind of users.
The real surprise is inside the laptops, however: despite them being technically Ultrabooks, they use some of the more powerful mobile Core i7 processors, unlike the Series 9, which uses the ULV version that provides quite limited performance when you really need it. While you might've though that they could've made the laptops thinner, even though they're all under 1 inch, you'll forget that once you start rendering videos in After Effects on the 15.6 inch model, which uses a quad Core i7-2675QM processor with a dedicated Radeon HD 6750M video adapter, 8 GB of RAM and 750 GB of storage space (provided by a fast 7200 rpm 2.5 hard drive) in its most expensive configuration – you may recognize this as the same configuration used by the current MacBook Pro, and yes, the thing is blazing fast, while costing less than Apple's offer!
The 14 and 13.3 inch models don't have the option of a quad core (I would expect it to be quite hot and have an adverse effect on the battery life), but the slightly slower dual Core i7-2430 is just as good – it's just as fast as the previous generation Core i7-620m, so you can already see that it will be more than enough for most tasks, especially in such a small form factor. You can have up to 6 GB of RAM in either model, as well – for a 13.3 and even 14.1 inch laptop, that's quite a lot and certainly more than enough for everyday use: you can literally run 3-4 virtual machines without problems! The 13.3 inch Series 7 only has the option of Intel's integrated HD 3000 graphics adapter, while the 14 incher can be equipped with the mid-class Radeon HD 6490M – I'd personally prefer the latter for intensive work on the go.
As you can see, Samsung's Series 7 is impressive – that's all I can say and that's the only word to describe the laptops. Not only do they bring a very nice and durable design to the masses, but they are also equipped to handle almost anything I can think of (and I used to do video editing every day on a Core 2 Duo T9600 machine without any problems!). They would definitely be a great addition to any house/office and will keep their performance and resale values for years to come.