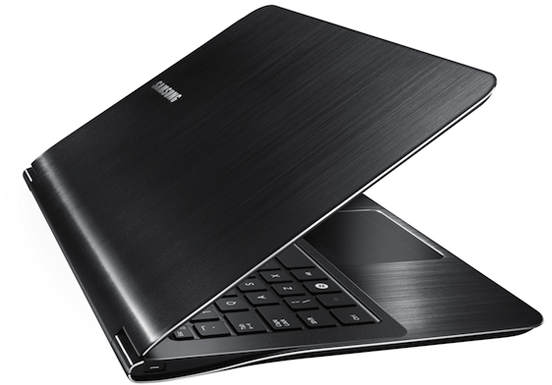 Samsung is one of the few conglomerates in the world that manufactures almost every conceivable electronic devices, from washing machines to TVs to smartphones and microwave ovens, they have the know-how and facilities to create them all. Not only that, but they also provide parts like LCD displays and memory chips to other manufacturers and electronics assemblers like Apple, HTC and other companies.
However, despite all that, Samsung has mainly stuck to the shadows when it came to laptops. Their laptops are among the most reliable in the world, and are pretty cheap since they're made with Samsung's own components (display, hard drive, DVD drive, even the housing – all by Samsung), but few people know that. Fortunately, that's about to change: after the success of their branded smartphones and tablets, Samsung is finally going full force into the laptops market worldwide.
One of their latest products in the niche is the new Series 9 (NP900) laptop – a real work of art and engineering that will surely attract and retain your attention. On the outside, it looks truly amazing: nice rounded edges and silver accents make it as unique as it gets, and this time it has nothing to do with certain Apple products and their tapered edges.
The whole laptop is made out of metal: the lid and palm rest/top cover are made of duralumin, which is the strongest and lightest material commonly used in aircraft and other high performance applications, while the bottom cover is made of powdered aluminum. Picking this laptop up from any corner is no problem, and there is no bend whatsoever – it's very nice knowing you have a stylish as hell laptop that is also super durable. The NP900 is also very thin, at only 0.64 inches thickness.
Opening it up, you'll see one of the best chiclet keyboards on a laptop – it's the same one used in previous Samsung laptops, and now it's also backlit and supposedly spill resistant (not spill-proof!). Right below it is the huge touch pad that supports multi touch and gestures by using the official Synaptics drivers and software.
Performance wise, this isn't the most powerful machine, but then again neither is the MacBook Air, for example. You're certainly not buying this to run 3DS Max or Adobe After Effects, but you'll definitely be able to run Photoshop or a virtual machine along with a development server with ease.
The only option for the processor and graphics adapter is Intel's Core i5-2537M, running at a base frequency of 1.4 GHz, but going to 2 GHz when the temperature is low enough. Right on the chip, there's the Intel HD 3000 video adapter, and the whole package is supported by up to 4 GB of DDR3 RAM onboard the machine. Of course, you get an SSD for storage, which is fast, quiet and cooler than a simple mechanical drive – the ideal choice for this ultraportable laptop.
The screen on the Series 9 is also one of the best in class, which is not a surprise, since Samsung does make the best TFT panels in the world. The matte, anti-glare 13.3 inch panel has a resolution of 1366×768 pixels and a very high brightness at 400 nit thanks to Samsung's SuperBright Plus technology. The viewing angles are also very nice, much better than on most other laptops, including Samsung's own.
By all means, this laptop is an Ultrabook, however there's no mention of that anywhere – maybe Samsung just thinks that Ultrabooks are the future of laptops and they don't want to make a distinction. Either way, it's a very impressive laptop that will surely find its buyers, although I'm going to have to wait for the price to lower a bit before I consider getting one (I'll also need a faster processor).