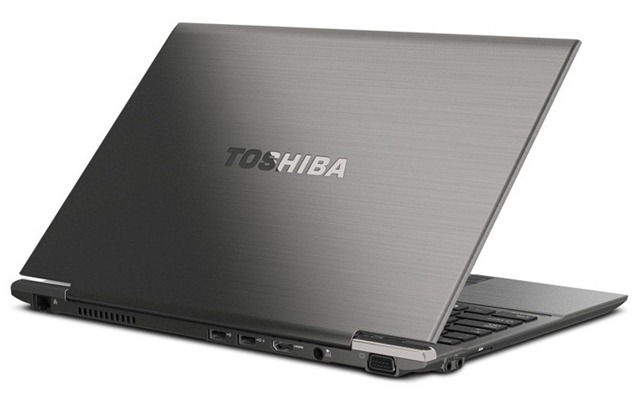 Toshiba makes some pretty sturdy, reliable and high performance laptops that sell for a very decent price, although their design decisions leave much to be desired and frankly make a lot of people cringe at the sight of sheer glossiness and chrome. But that's only on their consumer lines – the business laptops are actually pretty nice looking, with matte colors and keyboards.
The company is actually one of the top notebook manufacturers in the world – they have a laptop for every niche, from cheap netbooks to low end laptops for Web surfing to high end gaming machines that can easily rival any Alienware in performance. Naturally, they also became interested in this new concept called "Ultrabooks", and one of their first results after getting into it was the Portege Z830 – an impressive business machine that can rightfully claim the "thinnest" title back from the MacBook Air ("back" because the Portege line held it for years before other manufacturers came along and Toshiba lost their edge and/or interest).
There's nothing bad to be said about the design – this thing looks and feels simply amazing! Its housing is made out of a magnesium alloy in and out, with an additional metal frame on the inside (like the ThinkPads' roll cage), making it a very sturdy laptop indeed. The Z830 is literally the thinnest laptop and Ultrabook on the market (not that there are many of them, but I can't imagine anything beating this) – unlike the MacBook Air, which tapers at the edges to have a slim appearance, the Z830 has an uniform thickness throughout the body – to imagine it, it's 0.63 inches are literally as thick as two USB ports stacked upon each other, and that's with the lid closed!
Despite being incredibly slim, this Ultrabook still manages to accommodate all the ports that a business user may use throughout the day, including three USB ports, a full sized HDMI out port, an eight cell 47 Wh battery (non-removable, of course), an SD card slot and even a full sized VGA and Ethernet ports. Along with these wired ports, Toshiba has also included the usual Wifi N and Bluetooth and an optional Intel Wireless Display adapter, which may or may not become popular in the future, but still is a nice invention that removes even more cables from your work space.
When you open the lid, you'll find a very clean interior that looks professional (aside from maybe the chromed touchpad keys, which look out of place), a nice backlit keyboard that is also supposed to be spill-resistant (NOT spill-proof, it just won't get damaged right away if you spill something – you'll still need to turn the laptop over and let it dry) and a pretty standard 13.3 inch display with a resolution of 1366×768 and a 1.3 megapixels web cam right above it.
There should be no problems performance wise, either: the Portege Z830 can accommodate up to 6 GB of DDR3 RAM and a core i5 or Core i7 processor, which are pretty fast at their stock frequency and simply fly at Turbo frequencies, however the cooling system must be adequate for those speeds to kick in (I sure hope Toshiba thought this out). Obviously, there is no discreet graphics adapter, but Intel's on-chip solution does the work fine, just don't expect it to run Crysis 2 fluently or render 3D without a hitch.
Overall, the Portege Z830 is an amazing laptop, and it's also less expensive than say, Samsung's Series 9, starting at just under $1000 for the basic model and going to almost $2000 for the top one. It can be a great addition to any office desk, and if Toshiba's last generation of laptops (both business and consumer) is any indication, it will be a reliable machine that will work for years without problems.