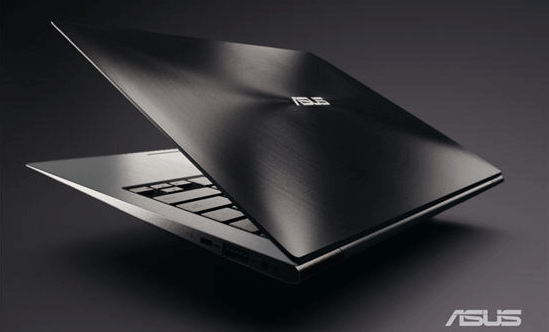 Asus was one of the first companies to announce that they will be making Ultrabooks, but apparently they were too busy with tablets and smartphones to notice that other manufacturers moved in ahead of them, or maybe they knew there is no rush and decided to wait a bit?
Whatever the reason, Asus is a bit late to the Ultrabooks party, but at least they're here – it's better late than never, especially when your product is one of the best on the market. Yes, Asus' new Zenbook UX31 is one of the most attractive laptops built to Intel's specs, packing everything from a powerful processor to a great screen and beautiful exterior design.
The Zenbook looks very pretty on the outside – it's ultra slim and has a great build quality, being made fully out of metal. It looks almost like… you guessed it, the MacBook Air, but then again, what Ultrabook doesn't remind you of Apple's creation? The tapered design makes it look more like Air than other laptops, however Asus did have the decency to change the design enough to make it a unique product. The biggest change is the display cover – it has a very distinct chrome metal finish with a radial pattern (like the 8560w, for example) that makes it stand out from the crowd and make it seem like a premium product (which it is, really).
The slightly rectangular design and brushed aluminum all along the top cover, plus the unique keyboard and font combination when you open the laptop also makes it very different from the MacBook Air – in fact, it looks like a totally different laptop on the inside. The big touchpad has multi-touch support, obviously, but the software has quite a few bugs it needs to sort out (it's strange that Sentelic still has issues with that, they've had multi-touch support for years). The keyboard looks pretty nice, it has a sort of futuristic design and is great for typing, as well.
The most important thing on the UX31 that is visible to the eye is the beautiful 13.3 inch LCD panel, which has a resolution of 1600×900 – much more comfortable for work and leisure than the usual 1366×768 on other Ultrabooks. Not only that, but the brightness is also very high at 450 nit (it's LED backlit, of course). The display alone should make you consider this laptop if you want an ultraportable for work.
Another defining feature that sets the Asus Zenbook UX31 apart from the competition is the Bang & Olufsen audio system, which provides surprisingly clear sound without distortion at a pretty high volume – considering it comes from a 0.66-0.11 inch (thickest to thinnest) device, it almost seems… magical :-).
The internal components are pretty good, as well: the Zenbook UX31 is powered by a Core i5-2557M CPU running at 1.7 GHz, aided by 4 GB of RAM and a 128 GB SSD – the performance should be pretty damn good in most apps, especially considering that Sandy Bridge processors are about 50% faster overall than their Core 2 predecessors. The integrated Intel HD Graphics solution is also good enough for most tasks, except gaming and heavy CAD/3D rendering – you'd need a discrete video adapter for that.
The Asus Zenbook UX31 is one of the most attractive Ultrabooks to date, right up there with Samsung's Series 9 laptop and Toshiba's new Portege – in fact, it's the best choice if you want an ultraportable laptop that is durable, has a good performance and a great display with a resolution that you can actually work with.