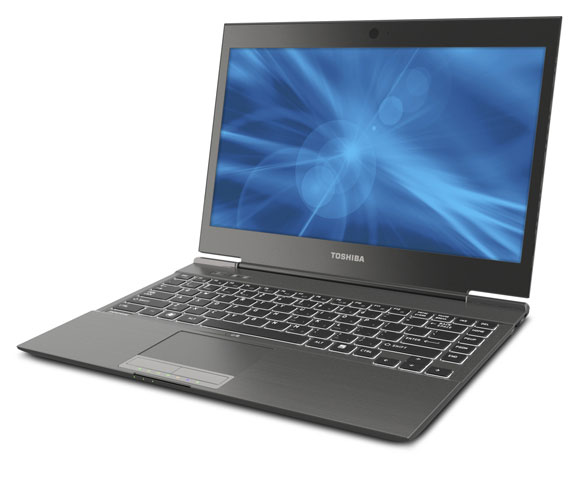 Toshiba has been on the computer market since the early days, and they have definitely built up some know how in the area. They're currently known best for their cheap and durable business laptops, as well as their desktop replacements and gaming laptops (the Qosmio series), which are among the best in class.
Of course, the company couldn't stand aside and not get into the new Ultrabooks niche, especially when they have a lot of previous experience in the area, having already brought out a few ultra slim laptops for their time with the Portege series (the latest you might remember was the R500, released at the end of 2007 and being 0.77 inch slim – a marvel at the time).
Their new Ultrabook contender, the Portege Z835, is not only slim, powerful and attractive, but it also has a very low price – much lower than the competition and for what you're getting, you'd really have to like or need other Ultrabooks to choose them over it.
Exterior design and the display
The exterior of the Portege Z835 has a love-it-or-hate-it design. Ultrabooks are supposed to be the next generation of laptops for consumers first, corporate types second, but the Portege definitely has a typical understated, business-like finish. It's all gray with a few chrome accents (typical of Toshiba), and while it's super slim at 0.63 inches and light at 2.5 pounds, it looks like it would fit an executive's office desk better than a home table. That's definitely not a problem if you like the design or if you don't care about it, but if you want a flashier laptop, the Portege is not your first choice. The build quality is great – the Z835 is made fully out of a magnesium alloy, with a honeycomb frame to make it sturdy and durable – the laptop is almost as good as the unibody MacBook Air, and that says it all.
The 13.3 inch display has the usual 1366×768 resolution you see on most ultraportables and budget laptops these days, and while it may be enough for work, it certainly isn't very comfortable. Given the price, it's a good tradeoff (especially when other Ultrabooks get away with a higher price and the same resolution), but an option for a higher resolution would've been nice. The viewing angles aren't great, but they're no worse than other laptops with LCD displays, and the color reproduction, brightness and contrast are adequate for office work, as well as entertainment.
Hardware features and performance
Toshiba has equipped the Portege Z835 with a pretty good range of ports and features – it's got everything you might need for work and leisure, starting from the Wifi and Bluetooth adapters, to USB 3.0 and USB 2.0 ports, a VGA and HDMI ports for video output, a Gigabit Ethernet port and of course, headphones/mic jacks and an SD card slot. The storage space is provided by a 128 GB mSata SSD, which should be fast enough for most tasks, although you'll obviously have to adjust to a lower amount of space if you're moving from a larger HDD (the performance is worth the tradeoff, though).
Obviously, with the build quality being great and the selection of ports being more than enough for any use, there had to be something that suffers from the low price point, and that something is processor performance. While other Ultrabooks get a Core i5, the Z835 has to make due with a Core i3-2367M 1.4 GHz dual core processor, which is actually pretty fast, but not comparable to i5's and i7's of course. If you need to compare it, it's pretty much like a 2 GHz Core 2 Duo – it'll accomplish any tasks, even heavy photo editing, but it'll be pretty slow in anything more resource intensive. The 4 GB of RAM are more than enough for anyone these days, and they definitely make the laptop feel snappy overall. Thanks to the i3 processor, you'll be getting around 8 hours of battery time with the 8 cell unit, which is also a plus.
Pricing and Availability
The price of the Portege Z835 is $800 – very cheap for the quality and features you're getting, and more in the line with budget and mid-range laptops. However, you'll only be able to get it at that price at Best Buy, as they have a special deal on it. Considering that you can find a store practically anywhere or you can shop online on their site, that isn't a problem. If you want to get a good Ultrabook that will last a while and you don't mind the strict, professional and slightly boring design, the Portege Z835 will make a great purchase – I'm willing to bet it'll cost even less on Cyber Monday, too!