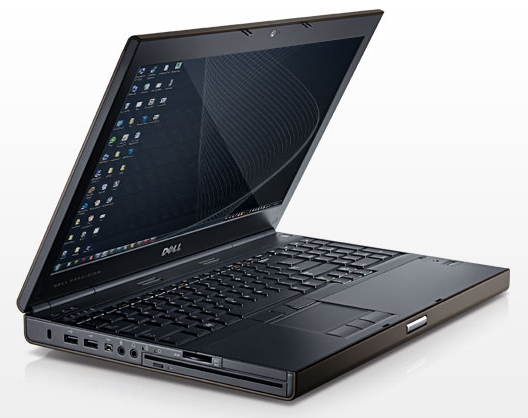 A little over a decade ago, if you needed to get some very resource intensive computing work done (like say, render some video footage or 3D objects), you simply had to have a powerful desktop computer, one which would've most probably consumed more than a few hundred watts of power at that.
And today, we've got powerful laptops that can do the same work that a big desktop-bound tower can, at the same price. The first models used to be big (still portable, though), but the latest laptops are so small you wouldn't believe the power that hides under the hood – in fact, most people still think that a mobile quad core running at the same frequency as a desktop one is slower (that's not true at all). These laptops have carved a niche for themselves and are in the hearts and offices of every person who needs one computer for work, home and play – we're talking about mobile workstations here.
One of the latest additions to the niche is Dell's M4600, from the venerable Precision line – a 15.6 inch laptop with enough hardware power to rival any desktop replacement or even desktop tower (obviously not the most powerful ones, though).
If you've been following the Precision line, which is in the business class, the same class as HP's Elitebook and Lenovo's ThinkPad, you'll know that the M4400 and M4500 had a completely different design than their more successful bigger brothers, the M6400 and M6500. The latter have an all-around aluminum housing, and more importantly, a much better cooling system that can't even be directly compared with the M4500/M4400. Well, it seems that Dell listened to their customers, as the new M4600 has the same external and internal design as the M6400/M6500 and the new M6600. It's a great design, and as they say, don't change what's not broken. The laptop looks great and will be cool and stable even under full CPU/GPU load with the fastest components available.
And the fastest components you can configure the M4600 are really good – the top configuration of the laptop has a quad core Sandy Bridge Core i7 2960XM processor, running at 2.7 GHz by default and being able to overclock to 3.7 GHz using Turbo Boost, while also having the multipliers unlocked for those who want to overclock it even further (although Dell won't allow it, it's possible). The amount of RAM you can install is also staggering – up to 32 GB, and 8 GB DDR3 modules are getting cheaper every single day, so you can upgrade it yourself. The storage space is provided by a HDD or SSD and an optional optical bay caddy if you want to sacrifice your Blue-Ray reader for more memory.
The top graphics card is a Nvidia Quadro 2000M with 2 GB of RAM, and it can drive a nice 1920×1080 pixels RGBLED display (with an optional touch screen) or the cheaper 1366×768 pixels unit, but obviously the latter is not recommended for heavy duty work. All of this power fits inside a 15.6 inch chassis that's no bigger or thicker than any other 15.6 incher out there – in fact, it's even smaller and sturdier than most consumer models. The top configuration will cost you a nice $2530 (with a huge discount) in the US, but of course you can go for cheaper models (the base M4600 is $1100).
Of course, the laptop has all the ports you'll ever need – Ethernet, HDMI, eSata, VGA out, Firewire, DisplayPort (yes, it can drive 3 external displays), 2 USB 3.0 and 2 USB 2.0 ports – there's really nothing missing. Inside the laptop, you have the Wifi and Bluetooth modules and a separate slot for the 3G modem and GPS or an mSata SSD – the latter could be used for installing a 64-128 GB boot drive for the top performance.
As you can see, the Dell Precision M4600 is not to be messed around with – even at cheaper configurations, it's more than capable of rendering video and 3D and doing any other kind of resource intensive work with ease – if you need a single laptop for all your work, this could be it.