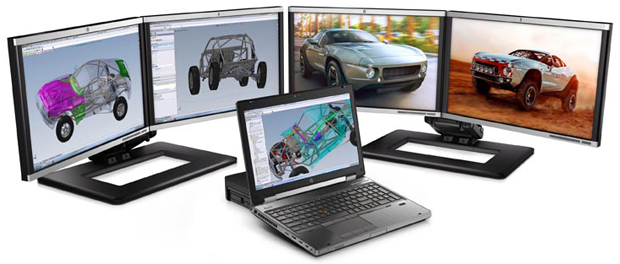 Among the many different business laptops on the market, the Elitebook line is probably the most well-known. It's HP premier brand for corporate and business users and when you hear Elitebook, you know it's a quality product that is powerful, fits well in a business environment and will go on strong for more than half a decade if it must.
The last two generations of the Elitebook were very popular, mostly thanks to the powerful hardware inside them and the high build quality – these things are like tanks, made fully out of metal and being able to withstand some pretty harsh conditions. And just recently, the new generation of Elitebooks went on sale – the xx60w features a new design and the most powerful hardware you can find on the market for any laptop.
The Elitebook 8560w particularly stands out, as it is a 15.6 inch model that has the power of a 17 inch desktop replacement (like the Alienware M17x, for example), yet it's not only portable, but also cool and stable when working, unlike many consumer laptops, which overheat the first time you load up After Effects or 3DS Max.
The design has a very unique retro feel and look to it, with the laptop having straight lines and slightly rounded corners, kind of like the Lenovo ThinkPad, only made completely out of an aluminum magnesium alloy, which makes it very sturdy, although it's also heavier than a normal plastic laptop of a similar size. The size is pretty normal for a 15.6 inch laptop, by the way, but the uniform thickness makes it feel worse than it actually is – usually most laptops (including the previous Elitebook models) taper down to the front, but the 8560w is 3.45cm everywhere. But that doesn't make it any worse for work, and at a weight of 3 KG, it's not that heavy for a powerful mobile workstation.
The internal hardware is definitely worth the increase in thickness – the base configuration (Core i5, 4 GB RAM, 500 GB HDD, AM FirePro M5950 with 1 GB of video memory) of the Elitebook 8560w can fly through most software that business users may need to run, but if you need something more powerful, you can get it with a custom configuration.
The maximum you can equip the 8560w with is pretty much the best you can get on the market at the moment: a Core i7-2960XM quad core Sandy Bridge processor running at 2.7 GHz and overclocking dynamically up to 3.7 GHz on one core and 3.3 GHz on all four cores (and with the great cooling system, it runs quite a long time at those speeds), a 256 GB SSD for the best performance (plus the ability to install another 2 in the mSata slot and in the optical bay drive, replacing it), 32 GB of DDR3 RAM (plenty enough for anything) and the NVidia Quadro 2000M with 2 GB of video RAM (this card is on the same level as the GeForce GTX 480M, for example). The configuration looks pretty amazing, but of course you'll have to shell out quite a lot of cash for it.
There are several choice for the display, as well: you can get the cheap and nice 1600×900 HD screen, a Full HD 1920×1080 screen or HP's unique offer – an IPS 1920×1080 pixels display, which is simply awesome – the best there is on any laptop, for sure (even Lenovo's similar screen doesn't compare).
It goes without saying that the Elitebook 8560w has all the ports you may need – HDMI out, VGA out, 2xUSB 2.0, 2xUSB 3.0, 1 eSata/USB combo (so its 5 USB ports total), a DisplayPort, Firewire, Ethernet, modem and of course, audio in/out jacks for your microphone/headphones. The audio system (not the speakers) is also one of the best in class – this laptop is ready for real time recording whenever you are.
While the HP Elitebook 8560 is pretty expensive, especially in its top configurations, it is completely worth it – this mobile workstation can last you years of use and abuse without getting too slow for work.