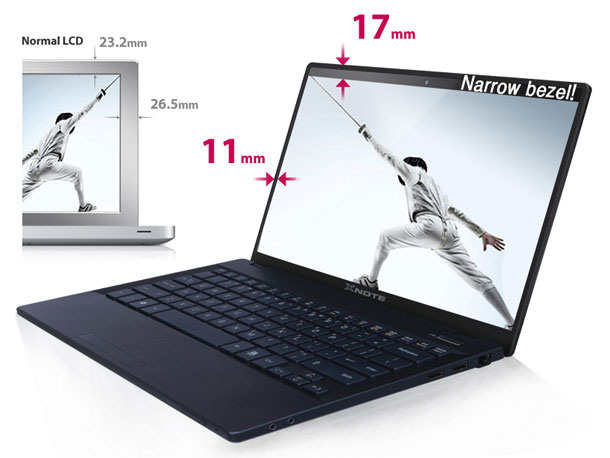 LG is one of the biggest electronics manufacturers in the world, and they're pretty well known for their quality household electronics, mostly TVs, microwave ovens and washing machines. AS of late, they've been pretty successful on the mobile market as well, making some very impressive smartphones, as well as lower end budget models.
While LG has also been manufacturing laptops for about half a decade now, their products in this niche aren't known for being particularly high quality or powerful – most of the laptop models that were released in the west were budget, plasticy devices that were meant for people who want to get something that works for a low price.
But it seems that they're not actually bad at making quality laptops – they're just not doing it outside of their main market of Asia – and one of their latest products released in South Korea proves that. The LG P330 is possibly the most powerful Ultrabook yet, and it's very well built, too, but sadly it will never come to any other countries (not officially, at least).
The P330 is the big brother of the P220, which is smaller, and looks much more like the MacBook Air. Thankfully (I suppose), the P330 has a different enough design to stand out from the crowd and dodge the Air comparisons most of the time. The housing of the new Ultrabook is made of aluminum and magnesium alloys all over, with very few plastic parts – even the display is covered by a nice, scratch resistant sheet of glass (hopefully it's not easily shattered). The subdued titanium color makes it great for an office desk, but it can be a great home machine, too.
The bezel around the screen is very narrow, too, much more so than the other Ultrabooks, although to be fair, the LCD itself is smaller than the glass covering it – still looks pretty great, though. While the overall size is pretty small, the P330 is thicker than other Ultrabooks at 27.4mm, but that's justified by the impressive internal hardware. LG positions this model as a business laptop, and with a 1.7 kg weight, it's plenty good for carrying around all day long.
The display is not that impressive – it's just the usual 1366×768 LCD unit, although there's supposedly an IPS version on the way. The laptop has 2 USB ports, VGA and HDMI out, as well as 2 audio jacks and an SD card reader – not much, but it's exactly what you'll get from any other Ultrabook.
The performance of the LG P330 is stellar though, thanks to the Core i5-2435M or optional Core i7 CPU, 4 to 8 GB of RAM and an mSata SSD + HDD combo that gives you the best of both worlds – speed and space for all your files. The top version comes with a 60 GB SSD and 750 GB hard drive combo, while the basic version has a 500 GB hard drive and a 4 GB SSD flash (to be used for swap space). The graphics adapter is a full-fledged dedicated Nvidia GeForce GT555M with 1 GB of DDR3 video memory, which is much more powerful than any other Ultrabook's solution, and on par with many bigger size laptops – coupled with the Core i7, this chip is able to do a lot of intensive tasks, including OpenGL and video rendering.
Obviously, for such powerful hardware in a small housing, you'll have to pay – a lot – with the P330 starting at $1220 and going all the way up to $2000, which is quite a lot. But if you want the best hardware in the smallest body possible, this is THE choice to make at the moment.
image source: innomart