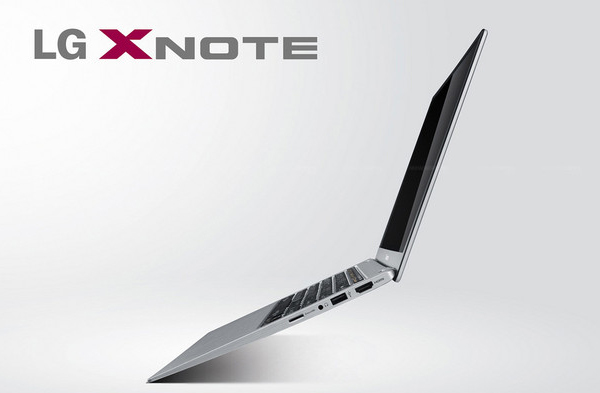 LG is really getting into the whole Ultrabooks game, and they look like they're going to be very successful, as well, judging by the quality of their products and the reviews online (even though a lot of people say that their Ultrabooks are a direct rip-off of MacBooks, just because of the unibody design). The P330 and P220 are doing pretty well in South Korea, and hopefully they'll reach western countries in the following months, heating up the competition (which currently consists of Toshiba's Portege Z835, Acer's Aspire S3 and Asus' UX31).
But LG hasn't stopped to rest on their laurels, not even for a moment – they've already announced the next Ultrabook, the X-Note Z330, which as you can tell from the series name (if you're familiar with LG's series), is a "slim and light" model, and seeing as Ultrabooks are already supposed to be super slim laptops, LG logically made it the thinnest Ultrabook on the market. For now it's only going on sale in South Korea, but I really hope that it will reach our shores at the beginning of the next year.
At its thickest point, it's only 14.7mm – yes it's that slim! And with a weight of only 1.21 kg, it's light, too. The body measures 315x215mm, and it's made using the same unibody technology as the MacBook Pro and Air – I can't imagine anything else giving it the same sturdiness and durability. Obviously, comparisons with the Air will never stop, so if you're an Apple fan, just get the Air, and if you want something more powerful that runs Windows correctly, opt for the Z330 – there, problem solved!
The display is a 13.3 inch TFT-LCD (too bad it's not IPS) with the usual 1366×768 resolution, which looks quite nice on this size, and it's good enough when it comes to color reproduction, contrast and brightness, as well. The bezel around it is just impressively thin – it's less than 5mm! The keyboard is an island style one, and it doesn't have much travel, that's for sure – it's very similar to the one on the Portege Z835 and Asus UX31, for that matter. The ports selection includes two USB ports, a HDMI out port, a micro SD card reader, a unified 3.5mm audio in/out jack and that's it. It's not much, but it's good enough for an Ultrabook. There's also a Wifi N, Bluetooth and Intel WiDi (Wireless Display) adapters on the inside, so connectivity wise, it's OK as well.
The performance is comparable to other Ultrabooks – LG gives you the choice of a Core i5-2467M or Core i7-2637M for the processor (both have Intel's decent HD 3000 graphics adapter integrated on the package), up to 4 GB of RAM and an 128 or 256 GB SSD – that's more than the competition offers.
The price will bite, for sure – the starting price for the base model is around $1800 – that is just expensive, and the Core i7 model will go well over $2000, for sure. Still, if you want the latest and greatest in Ultrabooks, it may be worth it (in fact, the first MacBook Air was priced similarly when it came out!).